Moors Murderer Ian Brady 'eats toast every morning'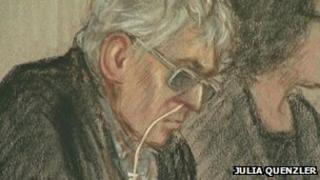 Ian Brady "makes himself toast every morning" despite having been on hunger strike since 1999, his mental health tribunal has heard.
Brady is currently fed through a tube at Ashworth Hospital, but a nurse there said he is regularly given food and eats on "most days".
The nurse said the hunger strike "serves some purpose" for Brady.
The Moors Murderer, 75, is fighting to be found sane so he can be moved from the hospital to a prison.
Ashworth charge nurse Mark Sheppard told the tribunal: "We make food available for Ian every evening which we know he takes.
"The reality is that we know Ian makes himself toast every morning."
Mr Sheppard said Brady throws away large amounts of food offered to him, but also eats some.
Asked how Brady viewed the appearance of being on hunger strike, Mr Sheppard said: "I think it serves some purpose for Ian.
"It is his continued stance that he is on hunger strike because of his perceived battle with the Home Office."
Suicide debate
Brady's precise reasons for wanting a prison move remain unclear, but it is thought he might try to starve himself to death, thinking prison governors might be powerless to intervene.
Dr James Collins, the leading doctor responsible for Brady's care at Ashworth, said the killer's primary motive was "a win" over the authorities.
Addressing that suggestion, consultant psychologist David Glasgow, called by Brady's legal team, said it would be "foolish" to say Brady was "working the system" and did not intend to end his life.
He said when it was pointed out to Brady he could be at risk of being killed by another inmate in prison, he had replied: "As long as it is quick, that is fine by me."
Brady was jailed for life in 1966 and his hunger strike began in 1999, but doctors at the hospital in Merseyside can force-feed him under mental health law.
Earlier, the tribunal heard Brady's "notoriety" might have affected the quality of the treatment he had received in hospital.
Mr Glasgow said it was "exceptional" for someone to be with the same carers for 30 years.
"This is just not a healthy position to be in," he added.
Mr Glasgow said he thought the care being given to Brady did not amount to treatment and the overall therapeutic approach to him did not appear to have any goals.
'Civil and caring'
Doctors at Ashworth say Brady is mentally ill and shows symptoms of hallucinations and delusions.
His legal team, however, assert he has a severe narcissistic personality disorder but is not mentally ill.
Mr Glasgow said Brady believed incidents were "embellished or invented" by Ashworth staff in order to "pathologise his behaviour".
He said he accepted the diagnosis of schizophrenia on Brady in the 1980s but that did not mean he suffered from it now and he had seen numerous examples of him being thoughtful, civil and caring to staff.
Professor Kevin Gournay, a specialist in psychiatric nursing, also called by Brady's legal team, said Brady has "a great abhorrence for psychiatry and what he calls the pathologising of his condition".
He said Brady had referred to prison as an "honest regime", adding: "He perceives prison as being locked up, doing your time and serving your punishment."
Brady and Myra Hindley tortured and murdered five children aged from 10 to 17, burying some of their victims' bodies on Saddleworth Moor.
Brady is due to speak publicly for the first time in 50 years when he gives evidence on Tuesday, and he wrote notes without looking up as witnesses spoke earlier.
Hindley died in prison in 2002, aged 60.