Warmer-than-average July ahead, predicts Met Office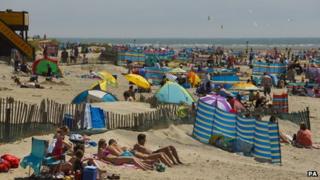 The UK could experience above-average temperatures and hours of sunshine in July, weather forecasters have said.
Parts of the country saw their hottest day of the year so far on Sunday, with the 27.2C (81F) recorded at Heathrow in west London a UK high for 2013.
The Met Office is predicting a build-up of high pressure will result in below-average rainfall this month.
It comes after spring was the coldest since 1962 and summer last year the second-wettest on record.
After the weekend highs, there is expected to be a slightly fresher feel for the first half of this week, and outbreaks of rain are expected in areas from the Midlands northwards.
But the BBC Weather Centre said the warmer conditions should return by the weekend and continue into next week, with temperatures in the mid- to high-20s (77-85F).
The Met Office added that there was an indication that the high pressure would last into the second half of the month.
'Increasingly warm'
A Met Office spokesman said July "rainfall should be below average, with above-average temperatures and above-average sunshine amounts".
"There is reasonable confidence that high pressure will build, giving fine and dry weather across most parts of the UK from Friday onwards, with a mixture of variable cloud and sunshine," he said.
"There will be lighter winds elsewhere with temperatures around or just above normal at first, but a good chance of increasingly warm temperatures during the course of the following week, especially inland, becoming locally very warm in sunny conditions.
"These drier and warmer conditions should continue into the following weekend and there are signals that the dry and settled weather from the first half of the month should continue across most parts of the UK during at least the first half of this period."
The predicted summery conditions come after leading UK scientists and meteorologists met last month to discuss the UK's "unusual" weather patterns over the last three years.
They examined the factors that caused the chilly winter of 2010-11, the wet summer of 2012, and this year's cold spring.
Met Office data shows July's mean daily maximum temperature in the UK over the last 30 years was nearly 20C, with more than 170 hours of sunshine.