Egypt travel advice urges Britons to avoid areas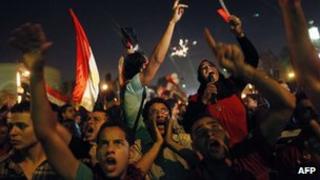 Britons have been advised to avoid all but essential travel to parts of Egypt amid mass protests about the country's leadership.
The Foreign Office advice covers all areas except Red Sea resorts in South Sinai and resorts on the Egyptian mainland in the Red Sea governorate.
In the latest violence, several people were killed at a rally in support of President Mohammed Morsi in Cairo.
The FCO said Britons in Egypt should consider whether they need to remain.
The resorts which are not covered by the advice are:
the entire region of Sharm El Sheikh, Taba, Nuweiba and Dahab
the St Catherine's Monastery World Heritage Site
road travel between the Red Sea resorts
road travel from the Red Sea resorts to St Catherine's Monastery approaching from the east
transfers between the resorts and the airports of Taba and Sharm El Sheikh
The travel advice said the FCO was "not recommending immediate departure at the moment" for Britons already in the country, but in areas where all but essential travel is discouraged, people "should consider whether they have a pressing need to remain."
They were urged to stay safe and keep a low profile.
Stabbing and rapes
The advice highlighted violence at recent demonstrations, including the death of a US citizen in Alexandria last week, reportedly stabbed after he was seen filming a demonstration there.
More than 40 rapes and sexual assaults of Egyptian and foreign women were reported at demonstrations on 30 June, the FCO said.
Mr Morsi became Egypt's first Islamist president on 30 June 2012, after winning an election considered free and fair following the 2011 revolution that toppled Mubarak.
Despite the violence as anti-Morsi protesters call on him to step down, he has insisted he remains the country's legitimate president.
In a late-night TV address, Mr Morsi rejected an army ultimatum that the crisis be resolved by Wednesday.
Mr Morsi said he would not be dictated to and urged protesters to remain peaceful.