Armed forces to face family visa restrictions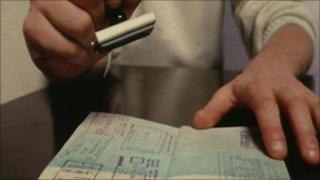 British soldiers with partners or children from outside the European Union are to face the same visa restrictions as other families.
Servicemen and women will have to reach a minimum income threshold in order to sponsor a non-EU spouse's visa.
The rules, which have applied to most families since 2012, will come into force from 1 December.
The Home Office said the rules were designed to ease the burden of migration on the taxpayer.
The armed forces had originally been exempted from changes to family visa rules, pending a review by the Home Office and the Ministry of Defence.
'Unnecessary differences'
In a written statement, Immigration Minister Mark Harper said this had now concluded and the government would bring rules for non-EU family members of armed forces personnel into line "with the general approach to family immigration".
Like other families, service personnel who want their non-EU dependents to come to the UK will have to earn a minimum of £18,600 for a partner, £22,400 for a partner and child, and £2,400 for each extra child.
A basic language requirement will also apply to any non-European partners trying to enter the UK - in line with language requirements imposed on civilians.
And non-European dependents between the ages of 18 and 65 will have to pass the new Life in the UK test - a new requirement for all families, which is coming into force in October.
Mr Harper said: "I am pleased to announce these changes to the immigration rules, which will remove unnecessary differences in the treatment of the dependents of British and Foreign and Commonwealth HM Forces personnel.
"The armed forces community makes a huge contribution to this country and they deserve our respect, support and fair treatment.
"Our family migration rules have been introduced to ensure that all family dependents coming to the UK are able to fully participate in British life.
"We think it is reasonable to align armed forces families to these rules as they are more than able to integrate into British society to the same level as any other families."
The new tougher immigration rules have previously sparked concerns that British citizens are being separated from partners and children from outside the EU.
Last month, the cross-party All-Party Parliamentary Group on Migration said the minimum earnings requirement was tearing UK families apart and causing anguish, with children sometimes being separated from a parent.
The committee called on the government to commission an independent review of the minimum income requirement, drawing on evidence of its impact since July last year.