Stephen Lawrence's friend Duwayne Brooks to meet Clegg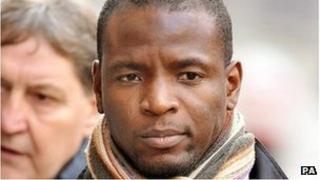 Stephen Lawrence's friend Duwayne Brooks will meet Nick Clegg to discuss allegations of police misconduct, Mr Brooks's solicitors have said.
The BBC revealed recently that the Met Police had secretly recorded meetings between Mr Brooks and his lawyer.
Mr Brooks was with Mr Lawrence on the night he was killed in a racist attack in 1993 in Eltham, south London.
He and his legal team will meet the deputy prime minister on Friday morning at Whitehall.
The discovery of the bugged meetings with Mr Brooks and his lawyers followed claims by former police officer Peter Francis that he was asked to find "dirt" on the Lawrence family.
'A scandal'
The home secretary then ordered two existing inquiries to look at the claims made by Mr Francis.
The Lawrence family, though, have called for a public inquiry into the allegations.
A senior police source told the BBC authorisation was given to record two meetings between Mr Brooks, his legal representatives and police officers from the investigation team.
The bugged meetings were held in an interview room at the offices of Deighton Guedalla, in Islington, north London, in 1999 or 2000.
Mr Brooks' lawyer, Jane Deighton - who will attend the meeting with Mr Clegg - said she was present at one meeting.
She told the BBC: "If it is true that police were secretly recording meetings then it's a scandal."
Mr Brooks - who was a witness for the prosecution at the Stephen Lawrence murder trials in 1996 and in 2011 and 2012 - was there at both.
A senior Met detective also attended both meetings, and it is thought one or two other officers may have been present.
Ms Deighton says she believes the meetings were intended to brief Mr Brooks and his lawyers on the progress of the investigation, which was given new impetus in 1999 when Deputy Assistant Commissioner John Grieve took over and when the Macpherson Inquiry was published into the murder case.
Gary Dobson and David Norris were jailed for life in 2012 after being found guilty of Mr Lawrence's murder, 18 years after he was stabbed.