Newspaper review: Anger at life sentences European ruling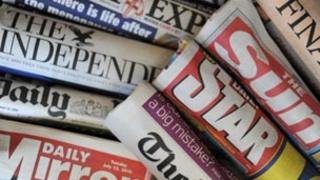 A European Court of Human Rights ruling that whole life sentences are inhumane and degrading has provoked anger in a number of Wednesday's papers.
The Daily Mail says it is a "fresh assault on British justice and democracy," coming after the deportation of Abu Qatada and asks: "What about the victims?" whose names it lists alongside all those of the 48 men and one woman serving whole life sentences.
The Sun and Daily Telegraph both follow suit and go even further printing pictures of the prisoners.
The Independent strikes a more philosophical tone, describing the latest Strasburg judgement as unwelcome and unpalatable for David Cameron.
And the paper departs from the fury of a number of other papers when it asks its readers: "From an ethical perspective it is surely right that no prisoner is seen as beyond rehabilitation."
Natural justice
No such wondering from the Sun, though, which describes the ruling as a "victory for evil", and echoes Tuesday's comments by Justice Secretary Chris Grayling saying "human rights laws were drawn up to protect people from evil, not the monsters who inflict it."
The Daily Star says it goes against natural justice that mass murderers could return to society while innocent people go through hell because of their actions.
Away from the ECHR ruling, the Times leads with Ed Miliband's plans for changes to Labour's relationship with the trades unions.
The paper says he is prepared to go over the heads of union bosses with a party-wide ballot if they try to block moves supposed to weaken their hold over Labour and describes him as a "better leader today than he was yesterday".
'Constitutional conundrum'
For its front page story, the Independent says English MPs are to be given the power to veto Westminster laws that don't relate to Scotland, Wales or Northern Ireland, as part of "sweeping constitutional reforms being drawn up by ministers".
English MPs would be able to reject legislation on issues relating to England only, even if it had been passed by a majority of all MPs - the paper says.
It would reportedly solve the so-called West Lothian question - why MPs from constituencies outside England can vote on English matters when English MPs have no say in areas that have been devolved to Scotland, Wales and Northern Ireland.
But in its editorial the paper says it would create two classes of MPs and that "while solving one constitutional conundrum, [the plans] merely raise another in its place".
Retribution
Meanwhile, the Financial Times reports that the decision by the new Egyptian authorities to close their border with Gaza has caused acute fuel shortages in the Palestinian territory and stranded thousands of travellers.
It says the Hamas government has called on Egypt to reopen the Rafah crossing, but it now holds a weaker hand after the fall of President Morsi - its biggest regional ally.
According to the paper, Gaza residents say the border closure feels like retribution from Egypt's new secular leaders.