Energy customers kept 'dangling' on the line for 30 minutes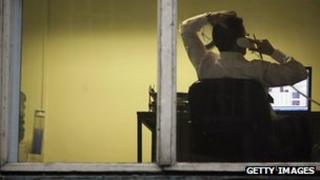 A survey of energy firms has found that customers who try to call them can be kept hanging on the line for up to 29 minutes.
The consumer group Which? called 16 energy companies 12 times during the day, at set times.
The worst performer was Npower, which took an average of 17 minutes and five seconds to answer the phone in person.
Since the survey, Npower said it has recruited an extra 150 staff, and has cut call waiting times to two minutes.
The best performer, according to the survey, was Ebico, which took just 21 seconds on average to answer the phone.
Which? also found that seven of the 16 companies surveyed do not have a freephone number for customer services, meaning that some people are having to pay while they hang on the line.
"It's outrageous that some energy suppliers are leaving their customers dangling on the phone, in some cases even paying for the privilege, for anything up to half an hour," said Richard Lloyd, the executive director of Which?
'Disappointed'
The survey also found that some energy companies, like British Gas, Scottish Power and SSE, play advertising messages while customers wait.
In its defence, Npower said that at the time of the survey, in March, it was actively encouraging customers to call, prior to the closure of its contact centres for three days in April.
The company said it was disappointed, but was now trying to improve its service to customers.
"Since April, we've recruited an additional 150 people in our contact centres and our average call waiting time in May was under two minutes," said a spokesperson.
Which? said that energy firms should ensure that calls are answered within two minutes.