Heatwave warning levels cut - but hot weather continues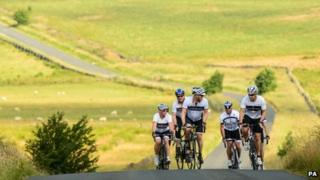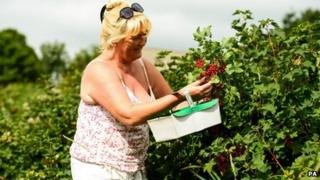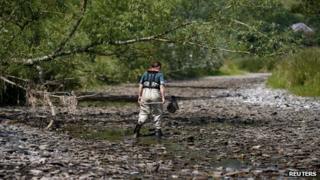 The Met Office has reduced its heatwave warning levels for much of England.
The North West, West Midlands and South West were at level three - when health services should take action to protect elderly, ill and very young people.
But these were lowered to level two, "alert and readiness", on Saturday, matching all areas except the North East, which carries the lowest warning.
Temperatures are expected to increase again next week but heavy rain and thunderstorms are also forecast.
The Met Office has issued a "yellow warning" for rain for a 24-hour period from midnight on Tuesday for Wales and all but the far north of England.
A Met Office spokeswoman said large amounts of rainfall coming down in short periods onto dry ground could lead to localised flooding.
Rising humidity
Scotland, Wales and Northern Ireland had their hottest day of the year on Friday.
Temperatures reached 29C (84.2F) at Prestwick, South Ayrshire, 31C (87.8F) at Porthmadog, north Wales, and 30C at Castlederg, Co Tyrone.
The north-west of England and the western fringes of Scotland were the warmest parts of the country on Saturday.
Temperatures hit almost 30C in Aviemore in Scotland, while the weather was cooler and cloudier on much of the east coast.
BBC weather forecaster Philip Avery said temperatures could reach the mid-30s in some areas next week, with humidity also increasing.
Since the heatwave began, 10 severely sunburned children - including a four-week-old baby - have been admitted to the specialist children's burns unit at Queen Victoria Hospital in East Grinstead, West Sussex.
Consultant plastic surgeon Nora Nugent urged parents to spend "a couple of minutes" applying sunscreen before letting children go outside.
'Carelessness'
Police and fire services have also warned people to be careful when swimming in open water following several deaths in recent weeks, including that of a 69-year-old woman in the sea off Skegness, Lincolnshire, on Friday.
HM Coastguard has issued safety advice to swimmers and sailors after call-outs in the past month were up by nearly a quarter compared with the same period last year - as more people take to the coast to enjoy the sunshine.
Firefighters had to tackle grass fires across Scotland on Saturday, including a three-acre fire near the village of Crook of Devon in Perthshire.
It comes after a grass fire at the southern edge of Epping Forest in east London on Friday, one of several recent wildfires around other parts of the UK.
Gus O'Rourke, of Cheshire Fire and Rescue Service, asked the public to "spare a thought for the firefighters".
He told BBC Breakfast many fires are started by carelessness, such as throwing cigarettes out of car windows or leaving barbecues unattended.
Large rural fires can put firefighters and members of the public in danger especially if the wind direction changes suddenly, Mr O'Rourke added.
Research by the London School of Hygiene and Tropical Medicine has estimated there might have been between 540 and 760 extra deaths in England, and 60 to 100 in Wales, due to the hot weather.
Met Office heatwave alerts are triggered when threshold temperatures - which vary by English region - have been reached for one day and the following night, and the level depends on the likelihood of those temperatures being reached again the next day.
In the four years since the current heatwave alerts system was introduced the Met Office has never used its top level-four category - "national emergency".
A Met Office spokeswoman said this would only be used after a long period of extreme hot weather leading to issues such as water shortages, infrastructure damage and deaths among "fit and healthy" people.
Warnings up to level three are issued by the Met Office but level four would require government involvement, she added.