Safe driving campaign targets South Asian communities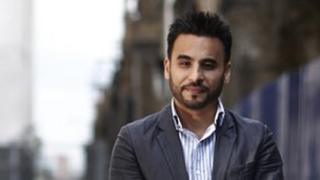 Former Eastenders and Bend It Like Beckham star Ameet Channa is backing a campaign against driving uninsured.
The actor has been in Bradford, West Yorkshire, to raise awareness of the dangers of driving without insurance.
"It's because insurance is expensive that a lot of young boys try and get away with it but putting other people's lives and your own at risk is simply not worth it," Ameet says.
According to research by the Motor Insurance Bureau (MIB), a non-profit organisation which pays claims to victims of accidents by uninsured drivers, five out of 20 of the UK's top uninsured hotspots are in Yorkshire, with an estimated 4% of 2.8 million vehicles not insured.
Figures for uninsured drivers in the predominantly Asian areas are six to seven times higher than the national average, as is also the case in areas of Birmingham.
The chief executive of the MIB, Ashton West, says the organisation is "aware that some of the hotspots where there's a high density of uninsured drivers also have large South Asian communities".
'Boy racers'
He says role models like Ameet Channa can help reach out to those communities and highlight the importance of safe driving.
"This problem is by far young adult males and it's testosterone driven and it's a difficult one to crack," Mr West says.
While it may be an issue that is caused by "boy racers" most young people are feeling the consequences of high insurance premiums.
Kaljeet Bhansal is an 18-year-old student from Leeds who recently passed her driving test and bought a car for £400. The lowest quote for insurance she was given was £19,996 (with Goodgirl.co.uk) and the highest was £33,845 (with Fluxdirect).
No other companies were willing to insure her.
She told the BBC: "It's annoying as I just want to drive my car."
Another student, Ammani Bashir from Bradford also recently passed her driving test. She was quoted £24,000 for car insurance.
"I spent £1,000 on taking driving lessons only to find I can't get insurance, and that's upsetting," she says.
Many students told BBC Asian Network they were tempted to drive without insurance.
Seventeen-year-old A-level student Zeeshan, from Bradford, says, "It would be so easy just to get in the car as it's sitting there on the drive."
Insurance myths
Many people, it seems, still do not understand the facts and laws around car insurance.
Ameet Channa says down the generations many myths have grown up surrounding insurance.
"In my family, my cousins used to say if a car is fully comprehensive then anyone can drive it," he says.
"Also children of parents who own trade plates think they can use them too. Even owning a car and leaving it on the drive without insurance can land you in trouble."
Ameet says it's time to stand up and understand the facts about insurance.
Criminal record
The Drive Insured campaign also highlights the penalties of driving without insurance.
If caught, they include a maximum fine of £5,000, eight driving licence penalty points, the car being seized by police and a criminal record.
Mr West says there are companies who will insure young drivers. He suggests shopping around, going to brokers or checking out insurance comparison websites.
"One of the emerging ways is pay-as-you-drive insurance, which involves a black box being fitted in the car that gives insurers information on how you're driving."
Meanwhile, organisers of the campaign plan to target young people from Asian backgrounds next at the Eid Mela event in Birmingham in August.