Classic British cars feature on new set of stamps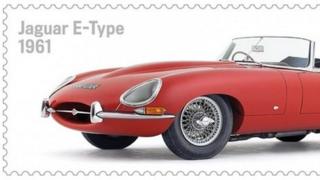 A set of postage stamps featuring historic British motor cars famous around the world has gone on sale.
A 1961 Jaguar E-Type, 1965 Rolls-Royce Silver Shadow and 1963 Aston Martin are on UK first-class stamps, and a 1962 MG, 1968 Morgan and 1976 Lotus Esprit are on international £1.28 stamps.
Images of the privately owned vehicles were captured by specialist photographer James Mann.
Royal Mail said the cars featured were "iconic".
Also on sale are stamps featuring classic working vehicles.
These are a Royal Mail Morris Minor van, Austin FX4 London taxi, Ford Anglia police car and Coastguard Land Rover.
Andrew Hammond, from Royal Mail, said: "This is a fantastic set of stamps that feature a collection of the very best in British motor car manufacturing in the 1960s and 70s.
"These cars are classic in every sense and we are delighted to be bringing a reminder of these iconic motor cars to the nation's doorsteps through this latest... issue."