Patricia McBride not entitled to redundancy payment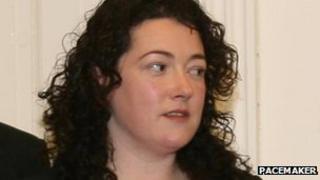 An employment tribunal has ruled that the former victims' commissioner Patricia MacBride is not entitled to a redundancy payment.
She was one of four commissioners appointed in 2008.
They served until 2012 when a single commissioner was appointed.
As the appointment was a public one, she was not entitled to a payment. She challenged that decision at the tribunal claiming that she was both an office-holder and an employee.
Ms MacBride sought confirmation from the secretary of the commission in August 2012 that she would get a redundancy payment as her contract neared its end.
The tribunal found that while there were "clearly many aspects" of her engagement which were consistent with a contract of employment, she was an office-holder and not an employee.
For that reason her claim was rejected, though the tribunal said it had reached its decision with "some hesitation and diffidence".
The first minister and deputy first minister decided last year to appoint a single commissioner and Kathryn Stone began her new role in September 2012.
The role had previously been held by four commissioners including Ms MacBride, broadcaster Mike Nesbitt, ex-interim victims' commissioner Bertha McDougall and Brendan McAllister.