Gibraltar's chief minister meets Hague in London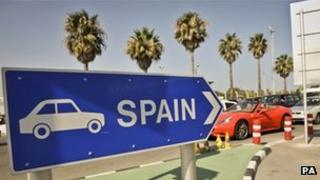 UK Foreign Secretary William Hague has met Gibraltar's chief minister Fabian Picardo to discuss the current border row with Spain.
The Foreign Office said Mr Picardo will also meet Prime Minister David Cameron as part of a series of meetings.
Mr Picardo's visit has "reaffirmed the strong bonds between the UK and Gibraltar", it said.
It said the meeting with Mr Hague also reflected the UK's "commitment to stand by the people of Gibraltar".
Reef rows
In recent weeks, Spanish authorities have increased checks at the Gibraltar border, leading to lengthy delays.
It followed Gibraltar's decision to drop 74 concrete blocks into the sea into disputed waters just off its coast, which it said would create an artificial reef and encourage sea life to flourish.
The row over the reef, which Spain claims disrupts waters used by its fishing boats, has continued.
Earlier this month Mr Cameron spoke to his Spanish counterpart Mariano Rajoy by phone and according to a spokesman raised "serious concerns" over relations between the two countries.
Gibraltar strongly criticised Spanish police last week for sending divers to inspect the reef.
Governor Sir Adrian Johns said the action constituted a serious violation of UK sovereignty over Gibraltar.
Last week more than 40 Spanish fishing boats staged a protest over the reef before being removed from Gibraltarian waters by police and Royal Navy patrol boats.
Meanwhile the European Commission has announced plans to send a fact-finding mission to Gibraltar to investigate the extra border checks on the Spanish side.