Newspaper review: Kenya mall attack dominates papers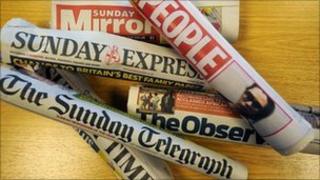 The Sun on Sunday reports that the Nairobi shopping centre which was attacked by militants on Saturday had been packed with children for a special play event.
A photograph of a woman clutching a terrified baby as she flees the siege is on the front page of the Sunday Times.
The Daily Star Sunday carries a picture of a wounded child squeezed into a supermarket trolley as it is wheeled away by a policeman.
The Sunday Mirror reports that one of those killed was a Kenyan television presenter who was pregnant.
And the Sunday Telegraph says Britons were caught up in the incident but quotes a security source saying there was "no indication" that British citizens were among the hostages.
Conference time
The Independent on Sunday reports that, shortly after the Conservative Party conference next week, a government-commissioned report will reject splitting the mainly state-owned Royal Bank of Scotland into a good and bad bank.
The report is expected to say this is not in the bank's interests as it prepares to return to private hands, the paper says.
Labour MP Dame Tessa Jowell - who was culture secretary and a leading Blairite - tells the Mail on Sunday that Gordon Brown must "shoulder the blame" for what she calls the disgusting conduct of his former spin doctor Damian McBride.
She says Mr Brown is "not an innocent" and "it's inconceivable he didn't know what Damian was doing".
Unimaginable suffering
The Observer columnist Henry Porter - reflecting on last week's mass shooting in Washington DC which left 13 people dead, including the gunman - says gun crime in the US should be viewed as an international humanitarian crisis, worthy of intervention.
He writes that the annual death toll from firearms in the US is 32,000 and rising, and suggests we should demand an end to the unimaginable suffering, maiming and killing of children - just as America does in conflicts around the world.
Ed Miliband, in an interview with the Sunday Mirror, gives his views on the row about the use of the word "yid" by Tottenham Hotspur fans at football matches.
The Football Association says the term is "derogatory and offensive" to Jewish people, but David Cameron has said it is acceptable for Spurs fans to use the word.
The Labour leader, who is Jewish, says he is against bringing criminal charges and the issue is "complex" because Spurs fans are not anti-semitic.