Archbishop hopes Prince George baptism will inspire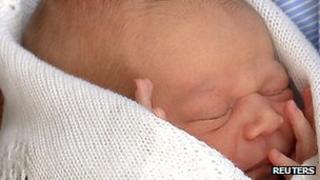 The Archbishop of Canterbury has said he hopes the "extraordinary" baptism of Prince George will inspire others to seek the same ceremony.
The Most Rev Justin Welby will perform the christening at the Chapel Royal at St James's Palace on Wednesday.
In a YouTube film released ahead of the service, the archbishop said he hoped people would not view baptism as only for a future king or "special people".
"All babies are unbelievably special, not only royal babies," he said.
The prince, who was born on 22 July at St Mary's Hospital in London, is the son of the Duke and Duchess of Cambridge and is third in line to the throne.
His baptism, described by the Archbishop of Canterbury as "hugely important", will take place at 15:00 BST.
Head of state
"As a nation we're celebrating the birth of someone who in due course will be the head of state," he said.
"That's extraordinary. It gives you this sense of forward looking, of the forwardness of history as well as the backwardness of history, and what a gift to have this new life and to look forward."
But he said Prince George would be joining two billion people around the world in the "family of the church" when he was baptised, adding "the great good news is that God doesn't care who we are".
Archbishop Welby said the royal couple would have received so much advice they could "probably fill a house with it".
But he said his message to them would be "what an amazing gift, what wonderful times that you will have".
Guest list
Princess Beatrice was the last well known royal baby to be christened in the Chapel Royal, in December 1988.
Prince George will be christened in a replica of the intricate lace and satin christening gown made for Queen Victoria's eldest daughter, Victoria, the Princess Royal, in 1841.
The guest list for the christening has not been released but Kensington Palace has said close members of both families will attend.
Following the christening, a picture will be released showing the Queen with three future monarchs - the Prince of Wales, Prince William and Prince George. The official photographs will be taken by portrait photographer Jason Bell.
Meanwhile, the Royal Mint is to create a set of commemorative coins to mark the occasion.