F1 chief Bernie Ecclestone rejects 'corrupt' sale claim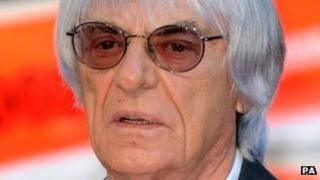 A damages claim against Formula 1 boss Bernie Ecclestone relies on the confessions of a "fantasist" jailed banker, the High Court has been told.
German media company Constantin Medien alleges that Mr Ecclestone deliberately undervalued F1 when BayernLB bank sold its 47% stake in the sport in 2005.
Robert Miles QC, representing the Formula 1 chief executive, said: "This is a case that simply does not add up."
Constantin said it lost out in the deal and is seeking about £90m in damages.
'Absolutely delighted'
Mr Miles said his client would have had no interest in undervaluing F1 because Mr Ecclestone's family was selling its own 25% stake at the same price.
Mr Ecclestone rejects Constantin's claims that he bribed bank executive Gerhard Gribkowsky in a "corrupt agreement" to sell to CVC Capital Partners at a favourable price that would see him remain in charge of F1.
Mr Miles said: "The bank was absolutely delighted at the offer. The reason it sold to CVC was because it considered it was a very good offer."
He said it came amid uncertainty in the sport at the time with car manufacturers threatening to set up a breakaway competition.
Gribkowsky is serving eight-and-a-half years in prison for corruption in Germany.
'Strongest position'
Mr Ecclestone accepts he made the payments to Gribkowsky but says the banker blackmailed him by threatening to make claims about his tax affairs to the British authorities.
Mr Miles said in written submissions to the court: "These payments were made because Dr Gribkowsky was 'shaking down' - in effect blackmailing - Mr Ecclestone in respect of his tax arrangements.
"The suggestion that this was all done to entrench his [Ecclestone's] position simply does not bear scrutiny.
Mr Miles added that Mr Ecclestone was in "the strongest position" he had ever enjoyed within Formula 1 at the time.
"There is an array of evidence that demonstrates that Dr Gribkowsky was, to put it mildly, something of a fantasist," he said.
Mr Ecclestone, 83, is due to give evidence in person next week.