Phone-hacking trial: Jury told of Mulcaire emails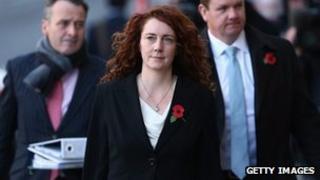 The jury in the phone-hacking trial has been told of three emails disclosed by News International which caused police to launch an investigation in 2011.
They were from private investigator Glenn Mulcaire to then News of the World head of news Ian Edmondson.
It is alleged they concerned hacking phones linked to Tessa Jowell and David Mills, Lord Frederick Windsor and an adviser to John Prescott.
Eight defendants deny a range of charges at the Old Bailey.
Among them are former News of the World editors Rebekah Brooks and Andy Coulson, and Stuart Kuttner, a former managing editor.
The court heard on Wednesday that three former News of the World journalists, who are not on trial, and Mulcaire had pleaded guilty to phone-hacking charges.
Earlier, on the second day of evidence, the court heard:
A recording of Mulcaire smoothly getting an operator for mobile phone company O2 to reset someone else's voicemail password
Mulcaire was given a written contract in 2001 worth £100,000 a year
Emails from 2001 show Mrs Brooks demanded formal approval of any spending over £1,000
The News of the World hacked journalists from rival paper the Mail on Sunday
The court was told that the first email message between Mulcaire and Mr Edmondson, on 20 April 2006, referred to MP Tessa Jowell and her husband Mr Mills, at a time when he had been accused of involvement in bribery linked to former Italian leader Silvio Berlusconi.
It said: "Substantial traffic both ways, also looks like she's selling up."
Prosecutor Andrew Edis QC told the jury: "You're going to have to decide in Mr Edmondson's case what you make of that, whether it can possibly mean anything at all other than 'I've been phone-hacking Tessa, and this is what I've found out'."
Another message, from 27 April 2006, referred to Lord Frederick Windsor, the son of Prince and Princess Michael of Kent, and contained a reference to "press * and Pin", which prosecutors say was Mulcaire telling Mr Edmondson how to hack a phone.
The third email referred to an adviser to former Deputy Prime Minister Lord Prescott, who was at the centre of a publicity storm because he was accused of having an affair.
The jury has also been told senior figures at the now-defunct News of the World would have been involved in the decision to give Mulcaire a written contract in September 2001 - worth around £100,000 a year.
Prosecutors claim that Mr Edmondson must have known that Mulcaire was hacking phones.
Referring to the alleged targeting of Ms Jowell and her husband, Mr Edis said: "We know what Mr Mulcaire was doing, he was phone hacking.
"Look how much contact there is at this time between Mr Edmondson and Mr Mulcaire. Do you think it is likely or even possible that Mr Edmondson did not know what was being done by Mr Mulcaire?"
Mr Edis went on: "This was an important story. It wasn't something that was stuck after the letters' page, this was big stuff."
The prosecutor said it was the editor's duty to ask "How do I know this information is true?" when stories were going to appear in the newspaper.
"Mr Coulson was editor at this time," he told the jury.
'Hacked rivals'
The jury then heard the NoW tried to get a "scoop" about Lord Prescott's affair with his secretary Tracey Temple in April 2006.
Mr Edis described a series of phone calls, emails, and phone hacks that he said demonstrated Mulcaire trying to get information.
The jury also heard that journalists at the paper, including James Weatherup - one of those who has pleaded guilty to hacking charges - and Mr Coulson, discussed trying to contact Ms Temple to offer her £100,000 for her story.
He said records showed that they then tried to hack the phone of Lord Prescott's special adviser Joan Hammell.
The court was told the NoW also hacked journalists from the Mail on Sunday to find out what information they had on the story.
'Quick worker'
The court heard how Lord Frederick Windsor was also a victim of phone hacking in April 2006.
Mr Edis said Mulcaire had begun hacking his phone just minutes after allegedly speaking with Mr Edmondson.
"He is a quick worker - you might think he is worth £100,000 a year if you know that, but not worth much at all if you don't," the prosecutor said.
Mr Edis told jurors they would have to consider how much pressure NoW reporters were under to get stories amid tightening budgets.
"In the dog-eat-dog world of journalism, in a frenzy to get this huge story or try to get something better or at least as good as what everyone else has got, that's what you do, perhaps, if you are Ian Edmondson. You hack the competition," he said.
Earlier, jurors were played a recording of Mulcaire getting a voicemail password reset by mobile phone company 02 - a method it is alleged could be used to access people's voicemails.
Mr Edis told the court: "He really knows how it works, he knows the right things to say, and he is quite chatty and she doesn't seem at all troubled."
Disciplinary issue
Mr Edis also told the jury that emails from 2001 show Rebekah Brooks demanded formal approval of major spending as part of an effort to control costs.
In June 2001, she emailed the news desk and warned them all about going over budget. She told them it was becoming a disciplinary issue and any payment over £1,000 must now be authorised by her, Andy Coulson or Stuart Kuttner.
Mr Edis told the jury that the emails show that: "There was financial management going on - but all the while there were payments to Glenn Mulcaire that nobody was questioning.
He said: "Who authorised the payments? Mr Kuttner did," adding that he approved 221 payments to Glenn Mulcaire, totalling £413,527 between 2000 -2007.
Mrs Brooks, 45, of Churchill, Oxfordshire; Mr Coulson, also 45, from Charing in Kent; Mr Edmondson, 44, from Raynes Park, south-west London; and Mr Kuttner, 73, from Woodford Green, Essex, all deny conspiring with others to hack phones between 3 October, 2000 and 9 August, 2006.
The trial continues.