Mirror phone-hacking claims to go ahead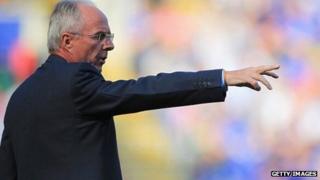 Claims for phone-hacking damages brought by former England manager Sven-Goran Eriksson and three others against Mirror Group Newspapers (MGN) can go ahead, the High Court has ruled.
Claims brought by Mr Eriksson, the Beckhams' former nanny Abbie Gibson and ex-footballer Garry Flitcroft can go ahead, Mr Justice Mann said.
And he dismissed an application to strike out parts of claims brought by Mr Eriksson and actress Shobna Gulati.
MGN denies the claims "vigorously".
An application for MGN - the publisher of the Daily and Sunday Mirror and the People - to appeal will be heard at a later date.
The judge said all four claims for breach of confidence and misuse of private information - which were filed at the High Curt in October 2012 - should survive in their present form.
'Significant blows'
In his ruling, he said the claims did not set out direct evidence of hacking.
Instead, they were based on inference from a number of facts said to be evidence of a pattern of phone hacking in the tabloid industry generally and at MGN in particular.
In the case of Ms Gibson and Mr Flitcroft, the judge rejected the assertion that their claims had no reasonable prospect of success.
Neither of the two had been told by the Metropolitan Police that they may have been victims of hacking.
He said "significant blows" had been landed on Mr Flitcroft's case but it had not been destroyed to such an extent that it had no reasonable or real prospect of success.
He also took into account that MGN had not denied that Ms Gibson's phone had been hacked.
"The absence of even a bare denial is, for the purposes of the present application, of some significance, and the alternative disclosure would not require the identification of a source," he added.
In a statement MGN said it continued "to contest the four claims vigorously".