Sven Goran-Eriksson's phone 'hacked for four years'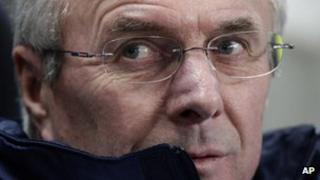 Sven Goran-Eriksson's phone was repeatedly hacked by the News of the World, a jury has heard.
It is alleged the former England manager and an FA employee, Faria Alam, were monitored by private investigator Glenn Mulcaire between 2002 and 2006.
The pair were in a relationship, and the phone-hacking trial heard it led to the headline "Sven's secret affair".
Earlier the court was told ex-NoW editor Andy Coulson was "very ambitious" but "not ruthless".
Along with another former editor, Rebekah Brooks, he denies conspiracy to hack phones.
Prosecutor Mark Bryant-Heron told the Old Bailey Mulcaire was tasked by news editor Greg Miskiw.
The jury was shown emails to the private investigator relating to the hacking, and then details of calls from the News of the World and his phones.
Among the stories alleged to have resulted from the hacking was the then England boss's affair with Ms Alam.
A sting operation by undercover reporter Mazher Mahmood led to another story with the headline "This Man Is A Crook", prosecutors allege.
'Very loyal'
The court also heard from Dean Keyworth, a long-standing friend of Mr Coulson.
Through that friendship, Mr Keyworth met Mrs Brooks in Dubai in 2002 while the paper was investigating the disappearance of teenager Milly Dowler.
He said he had "no recollection" of Mrs Brooks discussing the missing girl when she took calls from work.
Mrs Brooks was on holiday and her deputy Mr Coulson was acting as editor.
Prosecutors allege the newspaper changed its coverage between editions to omit references to the News of the World knowing about the teenager's voicemails.
That change, they argue, came after Mrs Brooks was in contact with colleagues while out of the country.
Mr Keyworth, who was in Dubai with Mrs Brooks and her then husband Ross Kemp, told the trial he recalled her spending lots of time on the phone but that he had no memory of specifics.
Jonathan Laidlaw QC, for Mrs Brooks, asked him: "You have no recollection of her talking about Milly Dowler or a missing schoolgirl at all?"
"No," Mr Keyworth replied.
He was asked by Timothy Langdale QC, for Mr Coulson, to describe the former editor who he had known since he was 19.
"He's a very loyal friend, and despite the fact that he became extremely busy and important, he maintained his old friendships," said Mr Keyworth. "He took care of a few people who were close to him.
"He was very ambitious but I don't think he's ruthless."
Asked if Mr Coulson was "an honest person", Mr Keyworth said: "Yes".
On Tuesday another witness, William Hennessy, told the court Mrs Brooks had made her excuses to leave a social occasion and that he had overheard her saying it had something "to do with the missing Surrey schoolgirl".
Mr Coulson, 45, of Charing, Kent, who also denies conspiracy to commit misconduct, left the newspaper industry in 2007 and went on to become David Cameron's communications director.
Mrs Brooks, 45, of Churchill, Oxfordshire, who was editor of the News of the World between 2000 and 2003, and her PA Cheryl Carter, 49, of Chelmsford, Essex, both deny perverting the course of justice.
Mrs Brooks denies a second similar charge, along with her husband Charlie Brooks and News International's former head of security, Mark Hanna. She also denies a charge of conspiracy to commit misconduct.
The trial continues.