Terror suspects held under TPims orders to be freed in weeks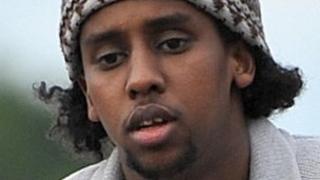 The release of seven terror suspects being held under the measures known as TPims is to be staggered over the coming weeks, the BBC understands.
The men, alleged to be a threat to national security, have their movements restricted under TPims (Terrorism Prevention and Investigation Measures).
TPims replaced terror control orders in January 2012 but have a two-year limit.
The men must therefore be freed of the measures by January but the authorities want to avoid simultaneous releases.
Burka disguise
The UK's security service, MI5, will then have to take a decision as to whether to invest resources in round-the-clock surveillance to track the men's movements in the short-term or long-term future.
Mohammed Ahmed Mohamed, the terror suspect being sought after absconding from a west London mosque on Friday disguised as a woman in a burka, would have been one of those on the list facing the prospect of imminent release.
A taskforce - made up of the Met Police's Counter Terrorism Command, MI5 and the UK's Border Force - has been set up to track him down, although Home Secretary Theresa May has said he does not pose a direct threat to national security.
However, the Labour Party said his escape was "extremely serious" and now says that the prospect of seven more terror suspects being released between now and the end of the year poses a serious challenge for the police and MI5.
Shadow home secretary Yvette Cooper told BBC News: "We haven't had any assurances about how this small number of individual cases are being dealt with.
"We know that these are people the home secretary, the police, the courts all agreed were very dangerous, and yet suddenly all of the restrictions and the protections that have been in place are going to be removed."
The identities of those on TPims - aimed at protecting the UK from what the authorities say is a small group of dangerous British citizens who cannot be placed on trial and cannot be deported - is kept secret.
They are held on strict conditions limiting their movements. Each must wear an electronic tag, observe a curfew and report regularly to the police.
They can also be banned from certain locations and from accessing certain websites.
Civil liberties groups condemn them as unjust since the allegations facing the men are often kept secret and have not been tested in a proper trial. In fact four have been tried but in each case was acquitted.
Coalition deal
Among those who are subject to a TPims order are two men who were allegedly linked to the foiled plot to smuggle liquid explosives onto transatlantic airlines in 2006.
A High Court judgement said of one of them, identified as AM: "He was and remains prepared to be a martyr in an attack designed to take many lives."
Some of the others are alleged to have connections to al-Shabab, the terrorist group based in Somalia.
TPims were introduced in January 2012 to replace the more onerous system of terror control orders, following negotiations between the Conservative and Liberal Democrat partners of the coalition government, and were limited to two years.
Nine men were made subject to TPims at that time. Mohamed Ahmed Mohamed and one other suspect have since absconded, which leaves seven unnamed men whose situation must be resolved by the end of the year.
They can only be put back on TPims if there is intelligence they have engaged in fresh terrorist activity. Otherwise they will be free. But not quite.
It is likely that each of the men's details will be fed into MI5's surveillance grid which looks at those individuals deemed to be a security risk.
Then decisions will be taken as to which of them needs to be followed. This is expensive. A team of up to 30 trained observers are required to track someone round the clock, although MI5 and the police have received extra funding for this.
However, as the case of Mohamed Ahmed Mohamed demonstrates, people being monitored can slip the net.