Newspaper review: Focus on energy prices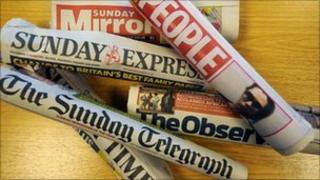 Several Sunday papers focus on energy prices and the attempts to reduce bills.
The Sunday Telegraph says new taxes to pay for environmental schemes are being considered by the government as part of a deal to cut household energy bills.
The paper claims that the cost of two of the so-called "green levies" on bills could be funded by general taxation.
It says a deal is likely to be struck in time for an announcement in the Autumn Statement in early December - and could result in an average annual saving of as much as £75 for each household.
The Mail on Sunday headline is "Energy Firms To Pay Back Billions".
It says customers will be refunded up to £2bn, which has built up from direct debit overpayments.
The paper notes that 13 million households pay a fixed amount every month - with many overpaying in the summer when energy use is lower.
It says that the energy firms have now pledged to review customers' accounts twice a year in order to stop people amassing large amounts of credit on their account.
In an editorial, the paper describes the move as a capitulation on the part of the energy companies and "a victory for consumer power".
Miliband on lenders
The Labour leader's attack on payday lenders is given prominent coverage in the Sun on Sunday.
In his article for the paper, Ed Miliband says the a future Labour government would order a crackdown on advertising by such firms.
The paper says the move comes after Martin Lewis - who is behind the Money Saving Expert website - told MPs that payday loan companies were "grooming" children by using characters such as cuddly puppets in their adverts.
But a spokesman for the association which represents short-term lenders tells the Sun they do not target specific groups or children.
The Independent on Sunday says David Cameron has promised to confront Sri Lanka's president at this week's Commonwealth summit following claims that government forces carried out atrocities against Tamil civilians.
The paper says Mr Cameron is being told to boycott the event by Britain's Tamil community and the Labour Party.
It also quotes reports that the Indian prime minister, Manmohan Singh, will not attend the summit because of pressure from ethnic Tamils in his country.
Sir Goldenballs?
The Sunday Times says it has compiled figures which show that as many as 40,000 expat Britons are claiming unemployment benefits in other European Union countries.
The paper says nearly 14,000 receive benefit payments in Ireland, around 5,000 in France and more than 4,000 in Spain.
It also notes recent figures showing nearly 10,000 British citizens in Germany are claiming unemployment benefit, worth up to £23,000 a year.
The Sun on Sunday leads with what it calls a "Goldenballs Exclusive" - that David Beckham is to receive a knighthood.
It claims the 38-year-old former footballer has been put forward for inclusion in the New Year's Honours List for his sporting career, his work as an ambassador for Britain, and his charity roles.
The paper has a mocked-up picture of Beckham receiving his award from Prince William - and points out that his wife, who was known as "Posh Spice" when she was in the girl-band, will become Lady Victoria Beckham.
Remembrance Sunday
The Observer reports on the debate about the sentence to be imposed on the Royal Marine found guilty of killing a Taliban prisoner in Afghanistan.
The former chief of the defence staff - Lord Guthrie - tells the paper that there should be no clemency for the soldier, saying that "murder is murder" and that he should be punished severely.
He goes on to say that British military personnel - even when operating under the pressures of war - should never be considered above the law.
Writing in the Sun on Sunday to mark Remembrance Sunday, the Defence Secretary, Philip Hammond, remembers the 446 British servicemen and women who have died in Afghanistan.
He says that as Britain reaches the culmination of a 12-year campaign "we should never forget them and we should never forget their families who are forever without their loved ones".
This year's Remembrance service at Camp Bastion will be the last large-scale act of Remembrance in Helmand as troops are brought home ahead of the end of combat operations next year.
Rolling Stones retirement
A report in the Sunday Mirror suggests that Police and Crime Commissioners have claimed £120,000 in expenses since being elected last year.
Its analysis reveals claims for a fact-finding visit to Sweden and stays in luxury hotels - as well as spending on parking fines, taxis and a car wash.
The paper claims the 41 PCCs and their deputies have each cost an average of almost £3,000 in expenses at a time when police forces have had to make cuts of 20% since 2011.
And finally, the Daily Star Sunday has bad news for fans of the Rolling Stones.
It says the band - who have a combined age of 279 and have been together for more than 50 years - will bow out after a world tour next year.
It quotes Mick Jagger as telling friends: "We can't be dancing around on stage in our 80s - even by our standards that's insane."