Hacking jury hears David Blunkett voicemails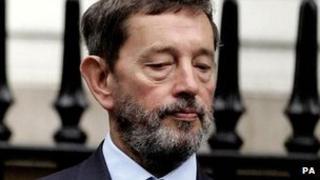 Angry messages left by Labour MP David Blunkett over false claims about his relationship with a female friend have been played in the phone-hacking trial.
In one, he said he hoped whoever had leaked information would "rot in hell".
Ten messages from 2005, left for Sally Anderson, were found at the home of private investigator Glenn Mulcaire, who admits phone hacking.
The court also heard an ex-aide was "puzzled" at how much the News of the World knew of Mr Blunkett's activities.
'Stitch-up job'
In one message played out to jurors, Mr Blunkett said: "Someone very, very close has done a really phenomenal piece of work on destroying both our lives at this moment in time and it's vile.
"Whoever it is I hope they rot in hell."
At the time, Mr Blunkett, the MP for Sheffield, was work and pensions minister. He also served as home secretary in the Labour government.
It is claimed that the messages were illegally accessed by Mulcaire on behalf of journalists at the now-closed tabloid, the News of the World.
In one message, Mr Blunkett warned Ms Anderson to start thinking about who might have passed information to the media.
He said: "I do think that someone has done a pretty good stitch-up job, chapter and verse, times, places, everything. That's pretty sophisticated to say the least."
In another message, Mr Blunkett said: "The hyenas are still trying to get me but when I'm back I will shed a little light and they will all run back into the jungle again."
Mr Blunkett's statement says part of one of his intercepted voicemails to Ms Anderson was "produced verbatim" in the Sunday People newspaper. He successfully sued over incorrect reports that he had an affair with her.
Plane seat
In a statement, Ms Anderson said she was followed to the US by a News of the World reporter who was pursuing a story on her relationship with Mr Blunkett.
She said the reporter Rob Kellaway sat near her on the plane and later offered her £150,000 for her story. She said: "I couldn't work out how he knew how to find us."
The court heard that Mulcaire's notes on Ms Anderson included details on her father, other family and friends and her osteopath's number.
The jury also heard that she approached the publicist Max Clifford, who arranged for the Sunday People to listen to her voicemails. She says she cannot remember how much she was paid.
She was sued by Mr Blunkett and had to issue a public apology in March 2006.
The court then heard from Mr Blunkett's former special adviser, Huw Evans, who said he frequently spoke to the then home secretary on mobile phones and used voicemails, but knew calls could be intercepted.
"We were very careful if we were having a conversation on a mobile to stick to a general subject or use coded language," he said.
He then described a conversation with then News of the World editor Andy Coulson over a story the paper planned to run in 2004 about the politician's affair with former Spectator publisher Kimberly Quinn.
Mr Evans said he believed all they had was a photograph of the pair together - so asked Mr Coulson why the evidence he claimed to have was substantive enough to run such a major story.
He said: "I told him that the photograph in itself proved nothing. I remember the tone of his voice... it was flat, unequivocal, that he was absolutely certain that the story was true and he was going to run it. I remember at that time remaining puzzled as to why he could be so certain."
Timothy Langdale QC, representing Mr Coulson, suggested Mr Evans had stood up the story during that conversation, which he denied.
Mr Coulson, 45, of Charing, Kent, denies conspiracy to intercept communications and conspiracy to commit misconduct.
Titmuss-Leslie relationship
The jury heard Mr Evans believed 13 people, including media advisers, knew of Mr Blunkett's affair with Ms Quinn.
Of the story's merit, he said: "I can understand why it was considered a story. I didn't consider then and I don't consider now that it was in the public interest to expose it. It was a private relationship."
The court heard Mr Blunkett and Ms Quinn had been on holiday together in 2003 and 2004, and attended a state banquet at Buckingham Palace in 2003.
In a police statement, Mr Evans said: "They were hiding in plain sight. I always thought that it was a matter of time before someone worked it out."
Later, prosecutors told the jury that model Abi Titmuss, who had a relationship with former TV presenter John Leslie, had her phone hacked by Mulcaire.
They were told Mulcaire had a note of her phone number and the phrase "do them both" was written on his note about Mr Leslie.
The defence counsel said, however, there was no evidence in those notes that Mr Leslie's phone was hacked.
In a police statement, Mr Leslie, said the year 2002 was a "traumatic time in my life" and the intense media interest in him only abated three or four years later when he moved to Scotland and stopped working in TV.
The trial continues.