Hacking trial hears four Royal aides were hacked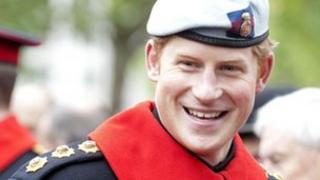 Phones belonging to four royal aides were hacked as the News of the World searched for stories about the monarchy, the Old Bailey has heard.
Aides close to Princes Charles, William and Harry were targeted by private investigator Glenn Mulcaire and journalists from the paper.
One voicemail a doctor left for Prince Harry's personal secretary, Helen Asprey, led to a story about sports injuries the prince was suffering.
Mulcaire has admitted phone hacking.
The jury heard evidence which suggested that other journalists at the NoW, including former NoW royal editor Clive Goodman, were also involved in accessing voicemails.
The jury was shown an email sent by Mr Goodman to editor Andy Coulson in which he said: "Andy, want me to talk to Paddy [Harverson, the Prince of Wales's communications secretary] about Harry? The health inf is from the doctor himself scammed from Helen Asprey [Prince Harry and Prince William's PA] so it's solid."
Mr Coulson replied: "He won't help, will he?"
The intercepted message left by sports specialist Dr Rod Jaques led to a story in the NoW on 23 January 2005 with the headline "Harry's Got 2 Nazi New Injuries".
The jury was told that Mulcaire intercepted "a large number" of voice messages of Paddy Harverson, Prince Charles' communication secretary in 2005 and 2006.
The court was also shown a transcript of the voicemail message Prince Harry left on the mobile phone of Jamie Lowther-Pinkerton, an ex-SAS man serving as his private secretary, in which the prince asked for information about the 1980 Iranian Embassy siege in London.
The transcript included the words: "Just wondering if you have any info at all on siege on the Iranian embassy because I need to write an essay quite quickly on that. I need some inf. Have most of the stuff but if you have extra."
Mr Mark Bryant Heron, for the prosecution, told the jury that the voicemail came to the attention of Mr Goodman, who was interested in it as a potential allegation of misconduct to do with essay writing against Prince Harry.
The prince was doing his officer training when the events took place around December 2005. The document was one kept by Mr Goodman.
The court heard there were more than 100 calls to Mr Lowther Pinkerton's voicemail from Mr Goodman's landline, an NoW number and to a lesser extent Mulcaire's number.
The jury was also told that about 200 calls to Mark Dyer, royal equerry to Prince of Wales, who supported Princes William and Harry after Princess Diana's death, were intercepted from Mr Goodman's landline and 100 more from a News International landline.
Earlier, the jury heard from Calum Best, son of footballer George Best, whose phone Mulcaire allegedly set out to target.
Lorna Hogan, a glamour model Calum Best had a relationship with for two months, also gave evidence and told the trial she had a deal with the NoW to sell "gossip" gained from her nightclub encounters with celebrities, earning between £3,000 and £10,000 for stories.
Mr Coulson, 45, from Charing in Kent denies conspiracy to intercept communications and misconduct in public office. Mr Goodman, 56, from Addlestone in Surrey, also denies conspiracy to commit misconduct in public office.
They are among eight defendants with links to the now-defunct News of the World.
The trial continues.