Scottish independence: BAE Systems job cuts 'not about poll'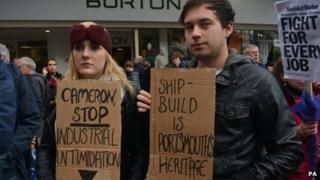 A cabinet minister has denied accusations that shipbuilding jobs were sacrificed in Portsmouth to protect the industry in Scotland.
Energy Secretary Ed Davey said the redundancies - 940 in Portsmouth against 835 mostly in Scotland - were not connected to next year's independence referendum.
He told BBC's Question Time £100m was being invested in Portsmouth harbour.
BAE Systems has announced a total 1,775 job losses over the next three years.
Workers across the Scottish and Hampshire sites were told on Thursday that a trawl for voluntary redundancies would begin next Monday.
In Scotland the job losses are due to be phased over the next three years and will leave a workforce of around 2,400.
By contrast, all 940 shipbuilders at the Portsmouth yard will lose their jobs in the next year.
The energy secretary said the government would do as much as it possibly could "to help the people who've lost their jobs".
"It's extraordinarily difficult," he added. "But it isn't to do with the Scottish referendum."
Former Conservative Chancellor Lord Lawson acknowledged people were "bound to have that suspicion" but said he believed BAE had made the decision to end shipbuilding in Portsmouth "on commercial grounds".
The job losses come at a crucial time in the run-up to the Scottish independence referendum.
A number of pro-union politicians have argued an independent Scotland would not be able to bid for British defence contracts - costing thousands of jobs.
But the GMB union's general secretary Paul Kenny said: "This is not a battle between Portsmouth and Scotland because a lot of people in Scotland are going to lose their jobs."
Mr Davey said government investment of £100m in Portsmouth's harbour would protect jobs and that a "city deal" signed with Southampton its south coast neighbour would help the local economy.