Ex-Co-op bank boss Paul Flowers' home searched by police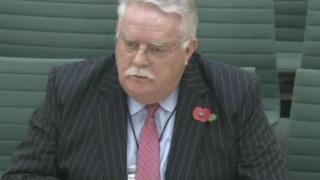 West Yorkshire Police officers have searched the Bradford home of former Co-op Bank chairman Paul Flowers.
The force is investigating allegations that Mr Flowers, a Methodist minister, bought and used illegal drugs, including cocaine.
Mr Flowers, 63, apologised after he was filmed allegedly buying drugs.
On Tuesday, Co-op group chairman Len Wardle resigned, citing "serious questions" raised by the scandal surrounding Mr Flowers.
'No grasp'
A spokesman for West Yorkshire Police said: "Officers executed a search warrant at an address in Hollingwood Lane, Great Horton, Bradford, yesterday [Tuesday] as part of their investigation into alleged drugs offences arising from a national Sunday newspaper story."
Mr Flowers, who chaired the bank from April 2010 until June this year, was filmed allegedly ordering cocaine and boasting about his use of other illegal drugs in a video published by the Mail on Sunday.
The Mail said he had been filmed earlier this month - days after being grilled by MPs on the Treasury Select Committee.
The former Bradford councillor, who has been suspended from both his church and the Labour Party, said he had been "wrong" and "stupid".
Questions have been raised about Mr Flowers' appointment as chairman of the Co-op Bank in 2010, and banking regulators will be questioned by MPs on the issue.
BBC business editor Robert Peston said that when Mr Flowers appeared before the committee of MPs on 6 November, he appeared to have "no grasp" of "basic" facts about the bank.
Mr Flowers had never worked in the banking sector in "any senior capacity", he said, but had been appointed chairman of the Co-op Bank as a result of a "power struggle within the co-operative movement".
The scandal has prompted pressure on regulators to introduce tougher checks on candidates for senior banking roles.
Mr Wardle, who led the board that appointed Mr Flowers, said the "revelations" about Mr Flowers had raised "serious questions for both the bank and the group".
He said it was "right that I step down now".
Mr Wardle will be replaced by Ursula Lidbetter, who is the Co-op Group's deputy chairwoman and chief executive of the Lincolnshire Co-operative Society.
Meanwhile, it has emerged that Mr Flowers stepped down as a councillor in Bradford in 2011 after "adult content" was found on a computer he had used.
The council said the content was "inappropriate but not illegal".