Greenpeace activist Frank Hewetson says oil rig protests will continue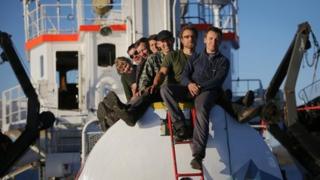 A British Greenpeace activist who spent two months in a Russian jail has said the organisation will "for sure" continue to stage oil rig protests.
It comes after 30 people were arrested during a protest against oil drilling at a Russian fixed gas platform in the Arctic in September.
Frank Hewetson, from London, who was bailed on Friday, said protesting by scaling oil rigs would happen again.
All of those detained still face possible trial on hooliganism charges.
Russia argues it was entitled to make the arrests because it claims the activists were breaking Russian laws.
'Still shaken'
Mr Hewetson and four other Britons - Anthony Perrett, Alex Harris, Kieron Bryan and Iain Rogers - were among 29 released on bail in St Petersburg on Friday after two months in jail.
They initially faced charges of piracy, but this was changed to hooliganism last month. Hooliganism carries a maximum penalty of seven years rather than 15 as for piracy.
An Australian activist, radio operator Colin Russell, remains in custody in St Petersburg; Greenpeace is to appeal against his detention.
Greenpeace said all those released had moved to an undisclosed location in St Petersburg.
Speaking on Sky News' Murnaghan, Mr Hewetson said he was "still a bit shaken" after his ordeal.
Asked if he or his colleagues were free to leave Russia, he said: "No, we are definitely not free to leave Russia.
"I do have my passport, but part of the anomaly of the whole situation is we were seized - the ship and us illegally - we were brought into Russia without a visa. None of us can actually leave because we don't have a visa.
"So at the moment the trial is still on the cards.
"I think the investigation period ends in three months, so I could still be here in three months and the trial could still go ahead in three months."
Mr Hewetson said he had been encouraged by the support the organisation's campaign to highlight the risks of Arctic drilling had received.
"I had been locked up in isolation, and when I came out, I was astounded at the enormity of the coverage, the support," he said.
"I think the change that a lot of people have had in understanding just how fragile the Arctic is, and I think the campaign has gone from strength to strength."
He said Greenpeace was "always learning lessons", and the incident in Russia would be no different.
The organisation would continue to stage oil rig protests, he said.
"I think it will happen again for sure.
"I'm just not going to comment about whether it will happen in Russia, I just don't have the mental head space to make that sort of decision at the moment.
"But I personally want to go back to part of the Arctic."