Peaches Geldof's Ian Watkins tweet could be investigated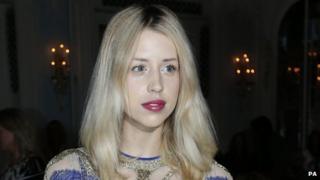 Peaches Geldof could face a criminal investigation after naming on Twitter two women who let their babies be abused by singer Ian Watkins.
Lostprophets frontman, Watkins, 36, from Pontypridd, admitted the attempted rape of a baby on Tuesday.
Publishing details which might identify the babies is a criminal offence, the Attorney General's Office said.
South Wales Police said it was discussing the issue with the Crown Prosecution Service.
Peaches Geldof, who is the daughter of Band Aid founder Bob Geldof and late TV presenter Paula Yates, is understood to have tweeted the women's names to her 160,000 followers after reportedly reading them on a US-based website. It is understood the tweet was subsequently deleted.
'Automatic lifetime anonymity'
Watkins was described as a "determined and committed paedophile" after he pleaded guilty to two counts of attempted rape and 12 other offences including sexual assault and taking, making and distributing indecent images of children.
A spokeswoman for the Attorney General's Office said: "We understand that the names of the co-defendants in the Ian Watkins case were posted online but have now been removed.
"As has been previously reported, the co-defendants were the mothers of the victims.
"Victims of sexual offences have automatic lifetime anonymity and the publication of names or information which can lead to their being identified is a criminal offence. This is a police matter."
E! Online error
Following the case and prior to Peaches Geldof's tweets, South Wales Police warned people about the "very real risk" of identifying Watkins' victims on social media.
The IPCC is investigating whether South Wales Police acted in a "timely manner" in the Watkins' case after the force referred itself to the commission in January.
Watkins committed some of the child sex offences he later admitted to while he was on bail after being initially arrested in September before being rearrested and charged in December 2012.
One of the crimes he pleaded guilty to was conspiring to rape a child on 31 October.
The force said the delay between Watkins' first and subsequent arrests was one of the things the IPCC would be investigating.
Meanwhile, the American-based celebrity news website E! Online says it "deeply regrets" using an image of Ian "H" Watkins from the pop group Steps on its story about his now disgraced namesake.
Earlier this week, a man who tweeted images purporting to be James Bulger's killer Jon Venables received a 14-month suspended sentence after admitting contempt of court.
There is a global ban on publishing anything revealing the identity of Venables who - along with Robert Thompson - killed the two-year-old James in 1993 when aged just 10.
A number of other people have been fined for breaking the law on Twitter and Facebook.
They include the wife of Commons Speaker John Bercow, who agreed to pay former Tory peer Lord McAlpine £15,000 in damages for a libellous tweet.