Prince William attends Motorcycle Live at NEC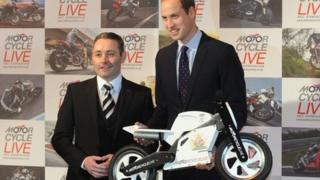 The Duke of Cambridge has visited the Motorcycle Live event at Birmingham's National Exhibition Centre.
He met the show's organisers, toured the stands, watched displays and sat astride various models.
Organisers said the event had become an "annual pilgrimage" for bikers as manufacturers showcase their 2014 models for the first time.
The duke visited several locations in Birmingham on Friday, including the new multimillion-pound library.
The show, which closes on Sunday, features famous faces and racing stars from MotoGP, World Superbike, British Superbike and the Isle of Man TT.
The duke has been a keen biker from a young age and currently owns a 1199cc Ducati.
After the bike show, he went to Villa Park to watch Aston Villa face Sunderland.
On Friday, the duke, a well-known Villa fan, predicted his team would beat Sunderland 3-0.