Mobile phone users protected from 'shock bills'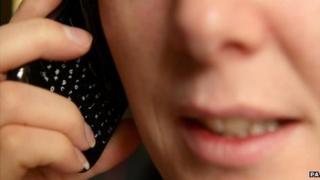 Mobile phone users will be protected from "sky-high bills" if their phones are stolen under an agreement between the government and four operators.
EE, Three, Virgin Media and Vodafone have agreed to a new cap on the maximum customers would be expected to pay.
The firms will also tell people of mid-contract price rises, and phone users will then have the option of breaking off the contract without penalty.
Culture Secretary Maria Miller said the deal would avoid "shock bills".
It follows her meeting with phone companies last month to discuss how to protect consumers.
Announcing the agreement as she accompanied Prime Minister David Cameron on his trip to China, she said: "Families can be left struggling if carefully planned budgets are blown away by unexpected bills from a stolen mobile or a mid-contract price rise.
"This agreement with the telecoms companies will deliver real benefits to consumers and help ensure people are not hit with shock bills."
It is thought the cap, which is expected to be in place from spring 2014, will be set at a similar level to the £50 liability cap on stolen credit and debit cards.
Consumer affairs minister Jo Swinson said "The last thing you need after the hassle of a stolen mobile is to find that someone has used it and landed you with a sky-high bill too.
"Phone companies have listened to government and to their customers and I welcome their agreement to protect them from unexpected costs."