Al-Sweady inquiry: Army major admits false claim over bodies photos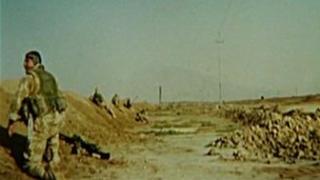 An Army major has admitted making a false statement to the High Court about a laptop containing pictures of dead Iraqis because he feared it could damage his career.
Major James Rands took the photos following a fierce firefight in May 2004 which left 20 Iraqis dead.
He told the Al-Sweady inquiry that he had thrown two computers into the sea.
But, in an earlier statement for a Judicial Review, he failed to mention the second computer.
The inquiry is investigating claims Iraqi detainees were mistreated and killed in what has become known as the Battle of Danny Boy.
Set up in 2010, the inquiry is named after one of the Iraqi men, 19-year-old Hamid al-Sweady, who is alleged to have been unlawfully killed while being held after the battle.
Lawyers acting for several Iraqi clients claim some were taken alive following the battle and mistreated or unlawfully killed at the nearby Camp Abu Naj base.
The Ministry of Defence denies the allegations.
'Severe impact'
Maj Rands was tasked with identifying the Iraqi bodies that had been taken back to the base.
After searching the dead men, he used his own camera to photograph them and uploaded them to his personal computer, making copies for those who needed them.
Maj Rands told the inquiry he had been as "ambiguous as he could" in his statement for the High Court when describing what happened to two computers.
The inquiry, sitting in central London, heard however that both were thrown into the English Channel - one in 2006 and the other in 2007 - because the officer was concerned he should not have intelligence material on his personal computers.
The first had contained pictures of the bodies but when it broke he copied the hard drive onto a new computer but said he deleted the pictures of the dead Iraqis.
"I had done something which could have a pretty severe impact on my future career and employability and my security clearance and I was not racing to admit that, particularly when I knew it wasn't really very relevant," he said.
Asked why he did not mention the second computer in his earlier statements, he told the inquiry he had not considered it relevant.
He told the inquiry the reason he had put the pictures on his personal computer in the first place was so that he could work more efficiently "when people's lives were depending on it" and because he was a "good deal more cavalier on these issues" as a junior captain.
"I had spoken to colleagues who worked in security who said ,'you need to be shot of that. You will get crucified if you get caught with it,'" he added.
Blindfolded prisoners
He also dismissed claims of a cover-up to hide alleged mistreatment and unlawful killing of detainees as "absurd".
Earlier, he told the inquiry he had seen nothing "untoward" or "inconsistent with their having been killed in a firefight".
He told the inquiry it was not unusual to blindfold prisoners and tie their hands behind their backs.
But asked if it was acceptable to "bang" them against the tent walls, Maj Rands said he had "no knowledge of it happening".
The inquiry continues.