Middle-aged 'have worst drink and drug problems'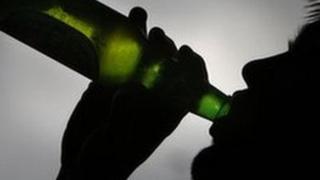 People in their 40s have the highest rates of hospital admissions for drug and alcohol abuse, a review says.
The analysis by Dr Foster found that out of more than 500,000 people admitted in the past three years in England, 120,000 were in their 40s.
The research group said it suggested a heavy drinking and drug-taking culture was catching up with the age group.
The greatest problems were being seen among the poorest, Dr Foster said.
Those from the least wealthy backgrounds were four times more likely than the wealthiest to end up in hospital.
Overall, one in 10 emergency admissions is related to drug and alcohol abuse, costing the NHS £600m a year to treat related conditions, such as liver problems.
But admissions peak in the 40-to-49 age group. Nearly one in five admissions is for substance abuse, according to the findings which will be published in Dr Foster's annual hospital guide on Monday.
Early intervention
Roger Taylor, co-founder of Dr Foster, said the figures suggested there was a particular issue among people born in the 1960s.
"The bulk of the problem is in this age group. It seems they are the ones that have used drinks and drugs more than previous generations and it is now catching up with them in middle age."
Problems were also high among people in their 30s - they were responsible for nearly 70,000 admissions between 2010-11 and 2012-13.
This suggests that substance abuse has continued in younger generations and by the time they reach their 40s they too could be seeing similar levels of hospital admission.
Lord Adebowale, chief executive of Turning Point, a charity that works with people with addiction problems, said: "These figures remind us that drug and alcohol misuse is a major health challenge and that binge drinking does not only affect younger people."
He added the scale of the problem showed there needed to be a co-ordinated response to helping those affected as addiction could have an impact on "families, housing and employment".
"Early intervention is critical if we are to stop intergenerational problems escalating."