Prince's South Pole race 'suspended'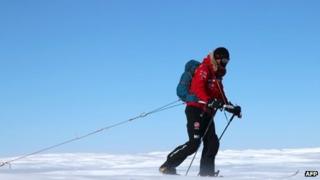 Prince Harry and his fellow competitors will no longer race to the South Pole because of safety concerns, the charity Walking With The Wounded has confirmed.
Team UK, including the prince and four injured British soldiers, embarked on the 200-mile expedition on 1 December.
They were due to race teams from Canada and the US, but will now continue to the South Pole as one group.
Expedition director Ed Parker said he had suspended the competitive element because of the "difficult terrain".
'Not the end'
Mr Parker said that the teams had had a "tricky couple of days".
"The weather remains good but the terrain is very difficult, far harder than we were anticipating," he wrote on the charity's website.
"The reasons for this are entirely safety based. I am looking at the three teams. They are going really well but people are beginning to get very, very tired.
"With our doctor here, who I am in constant contact with, we just feel we are beginning to push people a little too hard, so I have suspended the race."
Mr Parker reiterated that this was "certainly not the end" for the challenge, but said that steps had been put into place to ensure that the prince - and all 12 of the injured servicemen and women involved - were kept safe.
The group will embark on the final leg of the challenge from the second allotted checkpoint, 70 miles from the South Pole, on Sunday.
Over the course of the next seven days they will travel together to reach the South Pole.
The prince, an army pilot who has served in Afghanistan, said the aim of the event was to "meet a challenge head-on and overcome it and inspire others to do the same".
He took part in the charity's trek to the North Pole in 2011 but withdrew early to attend his brother's wedding.
He is already patron of the Antarctica expedition.
The four wounded service personnel in the British team are Sgt Duncan Slater, 34, from Muir of Ord in Scotland, who lost both his legs in a blast in Afghanistan in 2009; Maj Kate Philp, 34, from Worcestershire, who lost her left leg after a bomb blast in 2008; Capt Guy Disney, 31, from Oxford, who lost his right leg in a rocket attack in 2009; and Capt Ibrar Ali, 36, from York, who lost his right arm in a roadside bomb in 2007.