Operation Elveden: Two arrested in illegal payments probe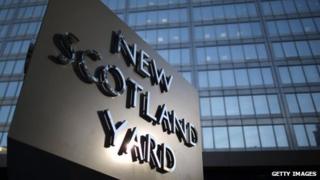 Two people held by police probing claims of illegal payments to public officials have been released on bail.
A 55-year-old woman believed to have been previously employed in a prison was detained on suspicion of misconduct in public office and conspiracy to commit misconduct in a public office.
The Metropolitan Police said a man, 55, was held on suspicion of conspiracy to cause misconduct in a public office.
They were both arrested on the Isle of Wight.
The man, who was detained at a passenger ferry terminal and is a tutor, was the 81st person to be arrested as part of Operation Elveden.
The woman, who is now retired, was the 82nd. She was arrested at her home.
Both were questioned at a Newport police station and their home addresses was searched.
Operation Elveden comprises Scotland Yard's investigation into allegations that journalists paid public officials for information.
It is being run alongside two other investigations - Operation Weeting, an inquiry into allegations of phone hacking, and Operation Tuleta, which is looking at claims of computer hacking and other privacy breaches.
The investigations were set up in the wake of the phone-hacking scandal that led to the closure of the Sunday tabloid newspaper the News of the World.
Those arrested include journalists, current and former police officers, prison officers and service personnel.