Ecclestone 'corrupt payments' trial judgement reserved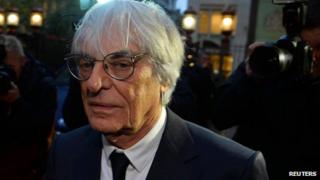 A judge has reserved judgement in an £85m ($140m) damages claim against the Formula 1 boss Bernie Ecclestone.
German media group Constantin Medien claims it lost out when the Formula 1 Group was sold in 2006.
Mr Ecclestone denies facilitating the sale to a buyer chosen by him by entering into a "corrupt agreement" with a banker.
After the two-month High Court case, judge Mr Justice Newey said he would deliver a ruling at a later date.
Mr Ecclestone is the chief executive of F1 and has ruled the sport for almost four decades. He is the long-time commercial rights holder of F1, but sold off a majority of the ownership in the 1990s.
Constantin Medien had an interest in the subsequent sale of a stake belonging to F1 shareholder Bayern LB, the German bank.
The stake was bought by private equity group CVC Capital Partners.
Constantin Medien lawyers maintain that Bayern LB's investment was sold "without the normal and proper process" and for an undervalued price.
They say the sale allowed Mr Ecclestone to retain a controlling position within F1.
Giving evidence at the trial last month Mr Ecclestone said the company's claim "lacks any merit".
In response to allegations that he made a payment to secure the deal, Mr Ecclestone said he was being threatened by the banker who had falsely accused him of tax evasion.