Hillsborough families prepare for inquests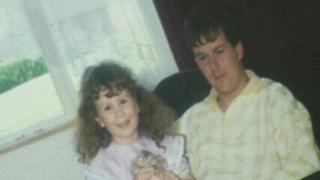 New inquests into the deaths of 96 football fans at Hillsborough in 1989 are due to take place in March, but for some of the families involved the preparations have already started.
Charlotte Hennessy has some very happy memories of her early childhood, playing with her dad James, known as Jimmy. She remembers him pushing her on the park swings, and says, laughing, "I can remember having this red and yellow Wendy house and he'd get in it".
But when Charlotte was six, Jimmy went to watch his beloved team Liverpool play Nottingham Forest in an FA cup semi final at the Hillsborough stadium in Sheffield. She never saw him again.
Jimmy, aged 29, was one of the 96 Liverpool fans who died after the terraces at Hillsborough became overcrowded on 15 April 1989.
Now a mother herself, Charlotte is still searching for information about how Jimmy died. The original inquest ruled that those crushed at the ground had died accidental deaths.
It is a verdict which still deeply upsets Charlotte and the other bereaved families. But last year the old verdict was quashed and new inquests were ordered, which will begin on 31 March.
For Charlotte there is now a sense of urgency, as she works to make sure that she has all the evidence she needs for the inquests. In particular, she wants to trace a police officer and a St John Ambulance volunteer who helped her father.
She is hoping that they can give evidence about Jimmy's last moments. She said: "I'm not looking to blame anybody for the death of my dad. I already know who's to blame for not following the right procedures. Those people who helped my dad were heroes".
'Consumes my life'
Louise Brookes is also working hard to prepare for the inquests. She lost her brother Andrew, 26, at Hillsborough. She treasures a photograph of the two of them which was taken on Christmas Eve 1988 - the last Christmas they shared.
Louise, from Bromsgrove, says that the prospect of new inquests is welcome, but brings its own pressures.
She explained: "I'm obsessed with Hillsborough, it consumes my life. That's why I'm constantly still researching things myself. Because this is our very last opportunity, You know, I can't come back in 10 years' time and say 'look I've found something else, can I have another inquest'."
Both Louise and Charlotte discovered their loved ones were among 41 fans who had the "potential to survive", according to the Hillsborough Independent Panel.
The families are pinning their hopes on the new inquests, and also on the two other new Hillsborough investigations which are now under way. One of them, Operation Resolve, has been tasked with investigating whether anyone is criminally liable for the disaster.
'Wide focus'
It is being run by Assistant Commissioner Jon Stoddart, whose team is also supplying evidence to the inquests. Mr Stoddart says that even now new evidence is emerging. He gives the example of one retired police officer who made a two-page statement in 1989. Having been re-interviewed, her new statement runs to 22 pages.
He said: "We've gone into this on a very broad footing making sure that we don't lose any investigative opportunities whatsoever. So rather than going in with a very narrow focus. We're going in with a very wide focus."
Recognition has been given recently to one campaigner who spent years fighting for new inquests. Anne Williams' son Kevin died at Hillsborough and she died of cancer in April. She was given a posthumous award at the 2013 BBC Sports Personality of the Year ceremony.
Her brother, Danny Gordon, told the BBC: "Anne used to say she looked up to me but for many years I looked up to her, because she was so courageous, so intent on getting justice."
Anne Williams did not live to see the new inquests she fought for - they. They will start just a fortnight before both families and survivors mark the disaster's 25th anniversary in April.