Flood warnings as more storms forecast for New Year's Day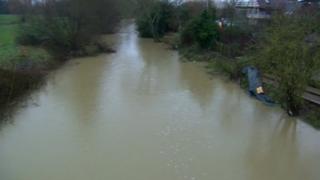 Flood warnings have been issued across England and Wales as forecasters predict more heavy rain and strong winds for the first day of 2014.
The Environment Agency said communities in Cumbria and parts of southern England were particularly at risk.
Hundreds of households are still recovering from storms that caused floods and power cuts over Christmas.
Scottish and Southern Energy customers who faced a prolonged blackout will be entitled to compensation payments.
A statement on the company's website said domestic and business customers without power for 48 hours could claim £54 - double the statutory requirement - plus an extra £54 for every subsequent 12 hours.
In total, 130,000 customers had power restored, but this was mostly within 48 hours. A spokeswoman was unable to say how many customers would be eligible for payments.
Another company, UK Power Networks, which maintains electric lines in London, the South East and eastern England, said it would pay £75 to customers who experienced 48-60 hour blackouts including Christmas Day.
Meanwhile, Commons energy select committee chairman Tim Yeo has said the bosses of the UK's energy distribution companies are to face questioning by MPs about the power cuts and Energy Secretary Ed Davey has summoned them to an "urgent meeting" next week.
It comes after more than 150,000 properties across the UK were left without power, many for several days, during the storms over Christmas.
Mr Yeo said it was "ludicrous" that some people had to wait five days for their power to be restored.
Emergency accommodation
In light of the latest forecasts, local authorities have been preparing emergency accommodation.
Travel
Check if this is affecting your journey
The Local Government Association urged people to look on council websites in England and Wales for details of emergency accommodation in case rising waters force them from their homes.
The Environment Agency has issued seven flood warnings for England and Wales, meaning flooding is expected and immediate action is required.
Counties at increased risk of flooding are Cornwall, Devon, Somerset, Dorset, Wiltshire, Hampshire, Gloucestershire, Berkshire, Sussex, Surrey, Kent and Cumbria.
"On New Year's Day, heavy rain is expected which could cause flooding to communities in the south-east and south-west of England," an agency spokeswoman said.
"There is a heightened flood risk for parts of south-east, southern and south-west England and Cumbria."
The Met Office has issued yellow warnings - meaning "be aware" - for rain for areas across the UK.
Helicopter rescue
BBC Weather's Matt Taylor said that although north-eastern areas would start dry, gale force winds and heavy rain would sweep in from the south-west and Wales.
The latest warnings came as a clean-up operation began in south and west Scotland following widespread flooding.
About 150 people were evacuated from their properties after torrential rain on Monday, with Dumfries and Galloway and Ayrshire particularly badly hit.
Seven people were airlifted by a Royal Navy helicopter from a farmhouse near Closeburn in Thornhill, Dumfries and Galloway, on Monday after torrential rains caused extensive disruption.
And three people were rescued by firefighters at Whitesands in Dumfries after they were cut off by the deep floodwater and rising river.