David Cameron rejects Help to Buy housing bubble fear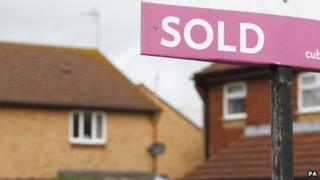 Prime Minister David Cameron has dismissed fears the Help to Buy scheme is creating a property market bubble, as he hailed it as a success.
No 10 says "almost 750" homes have been bought and 6,000 offers made since the mortgage guarantee scheme started.
Lib Dem Vince Cable recently said it should be reassessed in light of a "raging housing boom" in London.
But the PM said house prices outside the south east were up just 3% and warned against being "London-centric".
Mr Cameron said the initiative, which allows people to buy properties up to £600,000 with a 5% deposit, meant people without wealthy parents and a big deposit could "realise their dream" of owning a home.
Asked about fears of it pumping up property prices he said: "Where we are today, house prices are still way below the peak they reached in 2007.
"Forecasters do not think they will get back to the level before the crash even in 2019. So there is no evidence of a problem.
"This is about helping people to achieve the security and stability they want of owning a flat or a home of their own.
New lenders
He added: "I think if you look across the country, there are many parts of the country where house prices are barely moving at all.
"Nationally, excluding London and the South East, house prices are up just 3% over the last year - I think there are some people who are rather London-centric about this."
The mortgages, once approved, would represent nearly £1bn of new lending to aspiring home owners.
On average applicants are looking to buy homes worth £160,000, which remains below the UK average house price of £247,000.
They will face average monthly repayments of around £900 and have an annual household income of around £45,000. This means a Help to Buy mortgage represents 23% of borrowers' gross income.
Around three quarters are from outside London and the South East, while more than 80% are from first-time buyers.
The figures come from RBS and Lloyds Banking Group, the two lenders which joined the scheme from the start and cover the period up to 18 December.
Barclays and Santander are to introduce their own Help to Buy products this month, joining Lloyds Banking Group, RBS, HSBC, Virgin Money and Aldermore who have all launched products over the last three months.
'Very different circumstances'
Before Christmas Mr Cable, the business secretary, said the scheme was "conceived in very different circumstances" and should now be re-examined.
"There is a raging housing boom in London and the South East - not in other parts of the country," he said.
Mr Cable said this created a problem because the boom could get "out of control" unless interest rates were raised - but doing this would "hit those parts of the country which are not yet fully recovered".
For Labour, shadow housing minister Emma Reynolds said housebuilding needed to be increased.
She said: "Any help for first time buyers struggling to get on the property ladder is to be welcomed. But rising demand for housing must be matched with rising supply if this scheme is to bring the cost of housing within the reach of low and middle income earners."
Under the Help to Buy mortgage guarantee scheme, the government allows lenders to buy a seven-year "guarantee" - backed by the taxpayer - covering 15% of the loan value in case the borrower defaults.