Couple urged to reveal how child died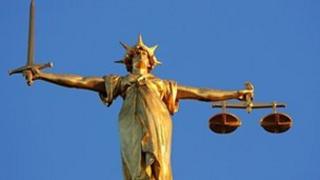 A High Court judge has urged a couple to reveal what led to the death of their 19-month-old son for the sake of their daughter.
Mr Justice Keehan said the boy had suffered "massive brain damage", caused by either his mother or step-father, but he could not decide who did it.
The unnamed couple have a one-year-old daughter and decisions had to be made about her future care, the judge said.
Social workers had asked for a ruling on the cause of the boy's death.
Details of the case at the Family Division of the High Court in London were in a written judgement published on a legal website.
Mr Justice Keehan said no-one involved in the case could be identified.
He said he had heard evidence from the boy's mother and step-father, medics and a social worker.
Mr Justice Keehan said the mother was "caring, loving and devoted" and the father a "kind and decent young man".
Injuries 'non-accidental'
The couple, who are both in their 20s, denied harming the boy.
However, Mr Justice Keehan said they had both lied and were trying to protect themselves or each other.
The mother said her partner had called her to say "something was not right", the judge said. She had "assumed" that the boy "had a fit".
The step-father had "described his panic" at finding the young boy "face-down in his cot".
The judge said: "In the light of the stance taken by the parents, it is not for this court to speculate how (the boy) came to be injured. All the court can find is that (his) injuries were caused non-accidentally either by the mother or by (her partner).
"I am not able to identify which of the (couple) caused (the boy's) injuries nor am I able to exonerate one of them."
He said there are "sadly but rarely" occasions when normally loving and caring parents momentarily lose control and accidentally inflict serious injury on a child.
"Such actions do not make them a bad person or a bad parent," he said.
The judge continued: "I do urge both the mother and (her partner) to reflect long and hard on this judgement. I urge them to consider what more they can and should reveal about the events which led to (the boy) suffering his fatal injuries.
"They should and must do so for the sake of their beloved daughter."
The mother's former partner - who was the young boy's biological father - played no part in the proceedings, the judge said.