First UK emergency aid flight lands in South Sudan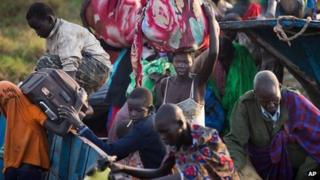 The first aid flight to South Sudan funded by the UK government has arrived in the African country.
At least 1,000 people have been killed since fighting began between rebels and government forces in the world's newest state on 15 December.
The Department for International Development said the aircraft, carrying emergency aid and sanitation supplies, landed in the capital Juba earlier.
The government said that dirty water posed "a very real health risk".
The fighting in South Sudan, which was formed in 2011 after gaining independence from Sudan, began after President Salva Kiir sacked his deputy Riek Machar in July.
Mr Kiir, from the majority Dinka group, said a group of soldiers supporting Mr Machar, who is from the second largest group, the Nuer, had tried to take power by force on the night of 15 December but were defeated. Mr Machar denies plotting a coup.
There have been reports of mass killings along ethnic lines, targeting both groups. Thousands have fled the violence - more than 180,000 people have been displaced.
The flight left Manston Airport in Kent on Saturday.
The plane's cargo, from Oxfam, includes water pumps, hoses, water tanks and chemicals to prevent disease and provide clean water.
International Development Secretary Justine Greening said: "With thousands of families fleeing their homes, there is a very real health risk posed by dirty water and poor sanitation.
"Working with Oxfam, this life-saving equipment will help prevent a secondary health crisis emerging.
"We continue to assess the situation on the ground and stand ready to deliver further humanitarian assistance."
Talks on ending the conflict formally opened in Addis Ababa, the Ethiopian capital, earlier.
Teams representing the government and the rebels who support Mr Machar will focus on agreeing a ceasefire and the release of political prisoners.