Jailed marine launches murder appeal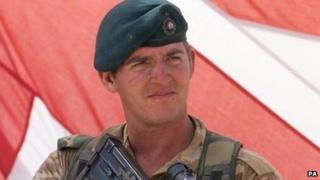 An ex-Royal Marine jailed for life for murdering an insurgent in Afghanistan has lodged an application to appeal against his conviction and sentence.
Sgt Alexander Blackman, of Taunton, Somerset, was found guilty of murder at a court martial in November and told he would spend at least 10 years in jail.
Footage from a helmet camera showed Blackman shooting the seriously injured insurgent dead.
Blackman was dismissed with disgrace from the marines when he was sentenced.
Helicopter gunfire
The court martial board in Bulford, Wiltshire, found Blackman guilty of murdering the insurgent, but two other marines were acquitted.
It was the first time a member of the British armed forces had faced a murder charge in relation to the conflict in Afghanistan, which began in 2001.
Blackman, who 39 at the time of the hearing, had been known as Marine A until an anonymity order was lifted following his sentencing.
He and the two other marines, who were later named as Cpl Christopher Watson and Marine Jack Hammond, found the insurgent seriously injured by helicopter gunfire. The insurgent had been part of an attack on a patrol base in Helmand.
The murder on 15 September 2011 was inadvertently filmed by Cpl Watson on his helmet-mounted camera and the footage was shown in court during the two-week trial.
In it Blackman was shown shooting the Afghan prisoner with a 9mm pistol.
After his court martial ended in December, Blackman said he was "devastated" at receiving a life sentence and "very sorry" at any damage his actions had caused to the Royal Marines.
He had been on six operational tours, including two in Afghanistan, during his 15 years with the Royal Marines.