Phone-hacking trial: Rebekah Brooks PA tried to trace diary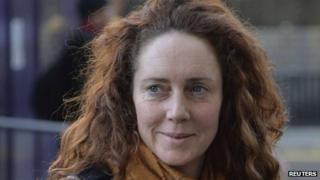 A former PA to ex-News of the World editor Rebekah Brooks tried to trace a 2002 diary and bank statements from that year, shortly before her boss's arrest in July 2011, a court has heard.
Deborah Keegan said she sent internal emails to find out where Mrs Brooks had been when the paper ran a story with material from Milly Dowler's voicemail.
Mrs Brooks resigned two days before her arrest over phone hacking.
She denies hacking and conspiracy to pervert the course of justice.
Mrs Brooks also denies conspiracy to commit misconduct in a public office.
'Police concern'
Mrs Keegan told the Old Bailey the emails included one sent to HSBC bank on 16 July 2011 - the day before Mrs Brooks resigned as chief executive of News International.
Mrs Brooks edited the News of the World from 2000 to 2003, when she became editor at the Sun before becoming chief executive of the papers' owner News International in 2009.
Mrs Keegan has been answering questions about her role in the removal of seven boxes from the News International archive, which the prosecution say contained old notebooks belonging to Mrs Brooks.
Mrs Brooks, her husband Charlie, and another former PA - Cheryl Carter - deny hiding evidence from police investigating phone hacking.
'My stuff'
Mrs Keegan told the court she had not been aware at the time of the emails of any police interest in Mrs Brooks and had no expectation she would resign when she did.
Asked when she first discovered the police were interested in Mrs Brooks, Mrs Keegan replied: "I don't know."
The jury heard details of an email sent 10 days before Mrs Brooks's resignation from another defendant - News International's head of security Mark Hanna - to Mrs Keegan.
The email discussed how to move Mrs Brooks in and out of her home and workplace and the prospect of "police concern" in her.
Mr Hanna denies conspiracy to pervert the course of justice.
The jury also heard details of an email sent by Mrs Keegan a week before Mrs Brooks's resignation trying to arrange a meeting between her boss and the lawyer, Lord McDonald.
Earlier this week, the court heard that Mrs Brooks's fellow defendant Cheryl Carter asked for notebooks to be returned from the News International archive the day after staff were told the tabloid was closing.
The closure was announced on 7 July 2011 after allegations that the paper had hacked the voicemails of murdered schoolgirl Milly Dowler in April 2002.
Police and prosecutors have claimed Ms Carter requested the boxes urgently on 8 July 2011.
But in a police interview played to jury on Tuesday, Ms Carter said the files were "mostly my stuff" and denied that she wanted them by a "certain time".
The trial continues.