Nicola Benedetti's 'tough time' after Young Musician win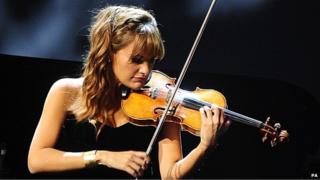 Violinist Nicola Benedetti has spoken of the "very tough time" she had after winning the BBC Young Musician of the Year award at the age of 16.
The musician, 26, told Desert Island Discs that, soon after winning, she performed so often she would go on stage "nervous" and "underprepared".
She told the BBC Radio 4 show's host Kirsty Young she felt there was a "machine counting on me to keep going".
Benedetti, who was appointed MBE last year, has released eight albums.
"The Young Musician of the Year final happened and I think the next day my picture was on the front of the Times and a practically full concert diary materialised within a very, very short space of time," she said.
"So by the age of 17, 18, I was going through a very tough time."
She said she was "disappointed" by the lack of help from those around her.
"I think I did feel that some of that support wasn't necessarily there within the profession - it's extremely cut-throat," she said.
"It was a very difficult moment because I had released my second or maybe third album, I had a sort of machine counting on me to keep going in order for this whole thing to keep working," she added.
Benedetti, from West Kilbride, Ayrshire, said she was not "overly troubled" by any pressure to assume a glamorous image.
"There are definitely requests for photo shoots that come in that they don't even make their way to me any more because they know there's no discussion," she said.
"There's not even a point in asking me because I won't be interested."
Last year, she won best female at the Classic Brits for a second year running.
Nicola Benedetti will appear on Desert Island Discs on BBC Radio 4 at 11:15 GMT on Sunday.