Saudi Arabia 'torture' Britons told they cannot sue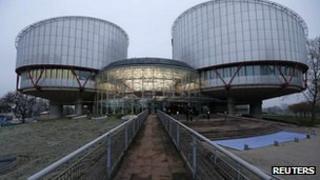 Four British men have failed to overturn a decision by the UK's highest court which stopped them suing Saudi Arabia for alleged torture.
The European Court of Human Rights (ECtHR) ruled that the men's human rights had not been breached by the British court's decision.
The men say they were tortured on suspicion of causing an explosion in Saudi capital Riyadh in 2000.
The court said Saudi officials had state immunity from legal action.
The decision supports a ruling by the House Lords, since replaced by the Supreme Court, which said state immunity meant the officials could not be sued.
Ronald Jones, Alexander Mitchell, William Sampson and Leslie Walker were arrested following an explosion outside a bookshop in Riyadh. They and other Westerners who were living and working in the Kingdom were accused of orchestrating a series of attacks.
Mr Jones, who had been injured in the explosion, told judges that Saudi security officials took him out of hospital and held him for 67 days, during which he was tortured by Lt Col Abdul Aziz. He says he was beaten with a cane on his palms and feet, slapped, punched, suspended by his arms, given mind-altering drugs and denied sleep.
Mr Sampson, a dual British-Canadian national who has since died, and Mr Mitchell were arrested later, followed by Mr Walker in February 2001.
All three say they were subjected to similar abuse while Mr Sampson said he was also raped. In court papers, they blamed two policemen, and a deputy prison governor for their torture - Ibrahim al-Dali and Khalid al-Saleh and Col Mohamed al-Said. They further alleged in court that the abuse had been sanctioned by the then Minister of the Interior, Prince Nayef bin Abdul Aziz Al Saud.
The affair led to a series of bizarre televised "confessions" by some of the Western men - and Mr Mitchell and Mr Sampson were sentenced to death.
But all of the men were eventually released and allowed to leave the country. Expert medical reports later confirmed that their injuries were consistent with their accounts of torture. Doctors also said they were suffering from psychological damage, including post-traumatic stress disorder.
High Court action
Mr Jones was the first to begin legal action against Saudi Arabia's Ministry of the Interior - but the High Court blocked his attempt to seek damages.
A further claim by Mr Mitchell, Mr Sampson and Mr Walker ended in failure in February 2004.
Later that year, the four partly won their case when the Court of Appeal said the five individual suspected torturers could be sued. In June 2006 the Law Lords said that decision had been flawed - prompting the men to appeal to the European Court.
The four had told the Strasbourg court that the decision by British judges to block their damages claims amounted to a breach of their right to access the courts.
Voting by six to one, the European Court judges said in their ruling that while everyone had a right to go to court, states could impose restrictions on the grounds of state immunity.
"In these circumstances, the Court is satisfied that the grant of immunity to the State officials in the present case reflected generally recognised rules of public international law.
"The application of the provisions of the [State Immunity Act 1978] to grant immunity to the State officials in the applicants' civil cases did not therefore amount to an unjustified restriction [on the access to a court]."
The decision echoes an earlier case involving the UK in which a claimant had failed to win permission to sue Kuwaiti authorities over similar allegations.