UK announces site to destroy Syria chemicals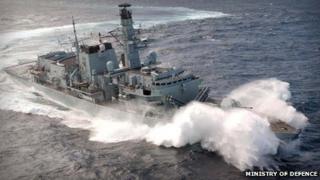 A waste management plant in Cheshire is to destroy 150 tonnes of material given up by Syria as part of the dismantling of its chemical weapons programme.
The UK Foreign Office (FCO) announced this would be carried out by French company Veolia Environmental Services at Ellesmere Port.
An FCO spokesman said the material was "not chemical weapon agents".
It comprised "precursor chemicals" that "are handled and destroyed by industry on a routine basis", he said.
In a statement, the spokesman said: "As confirmed before Christmas, the UK has agreed to destroy 150 tonnes of the original 1,300 tonnes that make up the Syrian chemical stockpile.
"It has been agreed that Veolia will facilitate the destruction of this material under an existing contract with the Ministry of Defence. Veolia has confirmed that the work will be carried out at Ellesmere Port."
International outrage
Syria agreed to destroy its chemical weapons in a deal brokered by the US and Russia last year.
It followed international outrage when rockets filled with the nerve agent sarin were fired at three towns in the Ghouta agricultural belt around the Syrian capital, Damascus, on 21 August.
Western powers said only Syrian government forces could have carried out the assault, but President Bashar al-Assad blamed rebel fighters.
The attack killed hundreds, provoked international outrage and led to a US-Russia deal to destroy the weapons.
The first consignment of toxic chemicals left Syria on a Danish ship early last week.
Syria continues to be ravaged by the conflict which began with the uprising against President Bashar al-Assad in March 2011.
The UN says more than 100,000 people have died since the Syrian conflict began. An estimated two million people have fled Syria and some 6.5 million have been displaced internally.
Government officials are due to attend peace talks - known as Geneva II - in Switzerland next week.
However, the main opposition alliance, the National Coalition, has still not decided whether or not to take part.
It is due to meet in Istanbul for a vote on Friday amid growing pressure from the West.
The plan to remove the weapons
1. The Syrian authorities are responsible for packing and safely transporting the chemical weapons from 12 sites across the country to the port of Latakia. Russia has supplied large-capacity and armoured lorries, while the US has sent container drums and GPS locators.
2. Russia will provide security for loading operations at Latakia, for which the US has supplied loading, transportation and decontamination equipment. China has sent 10 ambulances and surveillance cameras, and Finland an emergency response team in case of accidents.
3. Denmark and Norway are providing cargo ships and military escorts to take the chemicals to an as yet unnamed port in Italy. Russian and China will also provide naval escorts.
4. In Italy, the "most critical" chemical agents will be loaded onto the US Maritime Administration cargo ship, MV Cape Ray, to be destroyed by hydrolysis in international waters. Less-toxic chemicals will be shipped by Norwegian and Danish vessels for disposal at commercial facilities.