Dave Lee Travis trial: DJ 'fumbled girl on TV show'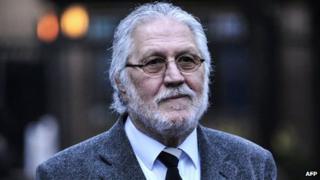 DJ Dave Lee Travis "had a fumble" up the skirt of a teenage pop music fan as he presented an episode of Top of the Pops, a London court has heard.
The woman said she was 17 when Travis indecently assaulted her at the BBC studios in Shepherd's Bush in 1978.
She told Southwark Crown Court she had been wearing an off-the-shoulder top and a ra-ra skirt at the time.
Mr Travis, 68, whose real name is David Griffin, denies 13 counts of indecent assault and one of sexual assault.
'Biggest names'
The woman, who cannot be named for legal reasons, told the court she was called over by a member of the studio crew to be on television as Travis introduced the next band.
"He [Mr Travis) put his arm around myself and pulled me towards him. It was cosy on screen," she said.
"Then he slipped his hand down and put it up my skirt. The skirt would have been lifted from the back.
"I can only really describe it as having a fumble of my bottom area. I think he was trying to get into my underwear."
Footage of the alleged incident was played to the jury. The witness said Mr Travis was then "one of the biggest names on Radio 1".
'Felt violated'
She said the footage cut just as she began to "grimace" - evidence, she said, that she was being assaulted by the presenter.
"That's why I couldn't comprehend what was going on. I felt really uncomfortable. I think I just stood there," she said.
The woman said she could not remember how the incident ended.
"I felt violated. The main thing is the camera crew was there, in front of all these people - that's what made it uncomfortable," she said.
The alleged victim said she believed the vintage clip shown before the jury would have been edited by the BBC at the time due to what she believed was "quite obvious".
She also said Mr Travis specifically requested for her and her friend to appear in the shot.
'Nothing bad'
Stephen Vullo, defending, said the witness appeared to be smiling in a still image.
"You smile because you were perfectly happy to be where you were and nothing bad was happening to you," he said.
The woman replied: "A lot of photos are taken and they don't always tell the truth. You can see from the video I'm not happy."
Asked if it was a false accusation, she said: "It actually happened, so it's true."
The woman said she would not "waste time coming here to tell a load of lies", adding that she did not want to come at all "because it's such a high profile case" and said it was both "scary" and "nerve-wracking".
The witness described how she and her friend agreed not to tell anyone: "He was a big famous DJ, we were nothing. We decided to go home and say nothing."
Earlier, the court was told Mr Travis indecently assaulted a teenage hotel worker as she checked him into his room in the coastal town of Bude, north Cornwall, where he was staying for a Radio 1 concert.
Came forward
Miranda Moore QC, prosecuting, said the woman was 18 or 19 when the alleged assault happened in the 1980s.
When asked why she did not complain to senior managers or the police, the witness said: "I was afraid that Mr Travis was a big star and I would be laughed out of town. I was a naive country girl."
The woman said she came forward to police after seeing Mr Travis give a television interview dismissing any involvement in allegations linked to the case of shamed radio DJ and TV presenter Jimmy Savile.
When Mr Vullo asked if she had made up the allegation, she replied: "No, I have no reason to."
Mr Travis, from Buckinghamshire, is charged with counts of indecent assault between 1976 and 2003, and a sexual assault in 2008.
The DJ and presenter is accused of assaulting 11 women, one of whom was 15 at the time of the alleged crime.
The case was adjourned until Monday morning