'Too few checks' on powers of police and crime commissioners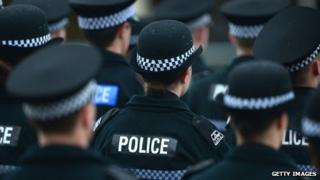 There are not enough controls on the powers of police and crime commissioners in England and Wales, the National Audit Office says.
It follows a review of the system carried out by the spending watchdog.
There were "few checks and balances" on the 41 commissioners between elections, according to the NAO.
It said police and crime panels, which were set up to scrutinise PCCs, "lack powers" to act on the information they receive.
The report also highlighted a "potential conflict of interest" in six areas where PCCs and chief constables use the same chief financial officer.
The NAO said that more needs to be done to hold PCCs - which collectively control more than £12 billion of police force funding - to account between elections.
NAO head Amyas Morse, the Comptroller and Auditor General, said: "The new policing framework has been in place for only just over a year but already it is clear that there are gaps in the system with the potential to undermine accountability both to the Home Office and the public.
"More work is needed to ensure that all elements of the framework are working effectively to minimise risks to value for money."
The NAO report said that the new PCC framework had the "potential" to be an improvement on the police authorities it replaced.
But it found that in a sample of 15 of the 41 commissioners' websites, no area had published all the data required to help the public hold them to account.
The watchdog added that the chief financial officer is a "crucial" check in the system - required by law to expose misuse of funds or unbalanced budgets for police forces and offices of commissioners.
It said that under the current system there were few practical checks on commissioners and no recall process.
Just 15.1% of registered voters took part in the November 2012 PCC elections - the lowest recorded level of participation at a peacetime non-local government election in Britain.