Phone-hacking trial: Seized Brooks computers 'were not in use'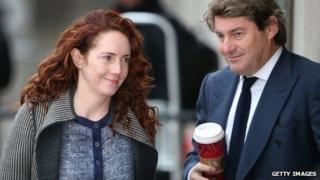 Computers recovered by police from Rebekah Brooks' house were not in use when she quit News International, the phone-hacking trial has heard.
Det Con Alan Pritchard said police had not recovered equipment with "relevant activity" from the time that Mrs Brooks resigned as CEO in 2011.
He told the Old Bailey some "computers, iPads and phones" of Mr and Mrs Brooks had never been found.
Mr and Mrs Brooks deny conspiracy to pervert the course of justice.
Jonathan Laidlaw QC, for Mrs Brooks, said it was "wrong" to claim equipment had gone missing "prior to and since" her arrest.
He said "all her computer equipment was left in the office...for police to recover later in the evening" on the day she quit.
'Left in the office'
DC Pritchard was involved in searches of homes belonging to Mr and Mrs Brooks in London and Oxfordshire, as well as an office at News International and an office in Marylebone, central London, in July 2011 and March 2012.
Mrs Brooks was arrested, along with her husband, Charlie Brooks, on suspicion of perverting the course of justice on 13 March 2012.
The court heard yesterday that 17 different computers and devices were found, including iPads, various laptops and a compaq desktop.
It was also revealed that the police searched a Moses basket used by the couple's baby when they arrested them in the early hours of 13 July 2012 at their home in Oxfordshire.
DI Stephen McCabe, who was the officer in charge of planning the operation, told the court his officers carried out their duties "without fear or favour".
He said that a team of 11 officers had arrived at the property at around 05:00 GMT with a warrant to search the building and the home of Mrs Brooks' 81-year-old mother-in-law, who lived next door.
Asked about the reasons for arriving so early in the morning, without warning, Mr McCabe said there was a "risk that material may have been concealed or destroyed".
He also said the police took into consideration the couple's jobs - in particular the knowledge that Mr Brooks, as a race horse trainer, was likely to leave for work early in the morning.
"I'm not in the business of humiliating anyone, neither are my officers," DI McCabe added.
Charlie and Rebekah Brooks deny conspiring to pervert the course of justice by concealing documents and computer devices.
The trial continues.