Brady jail transfer bid was stopped on safety grounds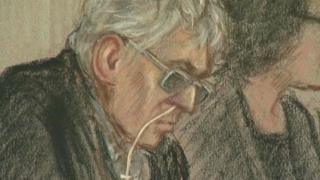 Moors Murderer Ian Brady's bid to transfer from a top-security hospital to jail was rejected for his own health and safety, a tribunal has explained.
Judge Robert Atherton, who chaired the mental health tribunal, said the 76-year-old had a "chronic psychotic illness" and could receive appropriate treatment at Ashworth Hospital.
He added Brady would be at "significant risk" in prison due to his "notoriety".
Brady made his first public appearance in decades at the hearing in June.
The tribunal announced its decision at the end of the proceedings but the reasons have now been outlined in a 115 page ruling.
Brady, who murdered five children in the 1960s with his lover Myra Hindley - who died in prison in 2002 - was jailed for life in 1966.
The tribunal said "with the benefit of hindsight" Brady should have been transferred to hospital for treatment earlier. He spent 19 years in various prisons before being sent to Ashworth.
'Conflicting views'
Brady's lawyer had argued he had a severe personality disorder but was not mentally ill and so could be treated in prison.
The tribunal said Brady's "views are important because he will spend the rest of his life either in a hospital or in prison. There is no possibility of him being discharged into the community."
But its ruling said: "The determination of that issue depends substantially upon his mental condition, about which there is an array of opinions amongst the medical practitioners who gave evidence to the tribunal."
Judge Atherton said: "It is impossible to accept all that each has said as there are so many conflicting views...
"Generally speaking, the tribunal concluded that the general experience of those who had given evidence on behalf of the hospital was more closely relevant than that of those called on behalf of Mr Brady.
"Furthermore, they had more direct experience of dealing with the problems which Mr Brady's mental disorder posed."
The ruling said: "One must also remember that he is now a 75-year-old man. When he was in prison he was much younger. He is now physically much weaker. But his notoriety has not diminished.
"The inmates of a prison would not be selected as the other patients on the ward are. That would create a significant risk to his safety even though the prison officers are acknowledged to have the skills to deal with such issues."
Brady appeared at the tribunal with his feeding tube in place.
The tribunal heard he has been on a hunger strike since 1999 but hospital evidence said he eats some food on "most days". During his evidence, Brady refused to answer a question from his own lawyer about whether he intended to take his own life if he were declared fit to return to prison.
The tribunal decision came after Mersey Care NHS Trust, which runs Ashworth, confirmed Brady received treatment at an outside hospital for two broken bones after a fall on Wednesday.