Wrongly-detained Ghanaian to receive High Court damages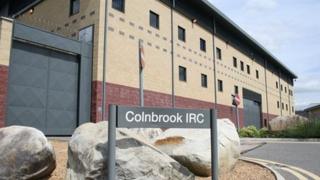 A mentally-ill Ghanaian man who was wrongly held in immigration detention centres is to receive "substantial" damages following a High Court ruling.
The man, referred to in court as S, was subject to "inhuman and degrading treatment", a judge has said.
Deputy High Court judge Anthony Thornton QC criticised Home Office immigration authorities in his judgement.
The Home Office said it was considering an appeal against the ruling.
Judge Thornton described the detention of S as "unlawful and unreasonable".
He also ruled Home Secretary Theresa May failed lawfully to operate her policy relating to the immigration detention of those suffering from mental illness.
Overstayer
S had been living in the UK unlawfully after a six-month visitor visa expired in 2005.
He was arrested in Corby, Northamptonshire, on 3 December 2011, having come to police attention after it was reported that he was "behaving in a strange fashion" in the street.
When an officer checked S's details, he discovered he was an overstayer.
S was detained initially at a police station, and later at Colnbrook and Harmondsworth immigration removal centres, for more than three months pending being sent back to Ghana.
He was released on 21 March 2012.
Judge Thornton said S's behaviour before his arrest was due to symptoms of "florid and largely untreated psychosis".
He was diagnosed as suffering from paranoid schizophrenia with cognitive impairment and severe depressive symptoms.
There was a failure to "take into account highly significant facts related to his mental health" after his arrest and a failure to treat and manage his illness, the judge said.
Judge Thornton said S had been considered fit for detention during lengthy immigration and asylum proceedings and also for removal from the country.
He added in his judgement: "Although unfit for any of those activities, he was left virtually untreated throughout the period of detention."
Human rights
Judge Thornton said S's condition was stabilised with anti-psychotic and mood stabilisation medication.
It was only finally brought under control following his release from detention.
The judge ruled that S's right to private life, protected under article 8 of the European Convention on Human Rights, and the article 3 right not to be subjected to inhuman or degrading treatment, had both been breached.
He said: "The claimant is entitled to substantial damages for his unlawful detention, since he would not have been held in detention for any part of the claimed period had the Secretary of State for the home department operated her policies lawfully, and if necessary additional damages for the sustained breaches of articles 3 and 8."
The damages will reflect the period of detention and the conditions under which S was detained, said Judge Thornton.
A Home Office spokesman said: "We are disappointed with the court's decision. We are looking at all options, including appealing.
"Detention is a vital part of effective immigration control and we take the health of those in our care extremely seriously."