London gangs expanding across UK, Met Police warns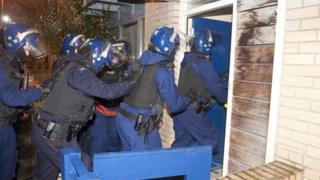 Some of London's most dangerous gangs are increasingly expanding their criminal activities across the UK, the Metropolitan Police has warned.
Officers say 54 gangs from the capital now have "tentacles" in other towns and cities, selling drugs and causing violence on a larger scale.
Police liken them to businesses, saying areas are selected depending on demand and whether other gangs operate.
Raids across the UK on Thursday targeted one south London gang.
Twenty-nine people aged 18 to 47 were arrested in the latest phases of an operation said to be focused on the so-called GAS gang, based in Lambeth.
Simultaneous raids took place at 23 properties.
The Met Police searched nine addresses in Lambeth, one in Southwark, one in Hackney and another in Brent.
Seven properties were targeted in the Thames Valley, two in Edinburgh, one in Essex and one in Bedfordshire.
Police said the operation illustrated how gangs were targeting new areas to confuse investigators and generate more profit.
Officers say the 54 London gangs that they believe have made criminal advances around the regions are already behind two-thirds of gang-related crime in the capital.
Det Ch Insp Tim Champion, from the Met's Operation Trident Gang Crime Command, told BBC Radio 4's Today programme: "What we are noticing is that gangs are spreading their wings, so rather than working in London, they are going into the counties, even Scotland, to deal drugs. So basically it's an expanding trade.
"We have communication with all our colleagues in the county forces and in Scotland, so distance isn't an issue if you are actually talking about operations from a London perspective, but we work with local forces from up there. So it's not always the case we have to go up there ourselves."
But there are questions over whether the UK's other police forces have the same expertise and resources as the Met to tackle to complexities of gang organisation and crime.
US 'franchises'
Academics highlight the situation in the US in the 1990s which saw gangs expand into different locations to escape rivals or to take advantage of underserved markets.
The Latin Kings gang formed in Chicago in the 1940s now has what it describes as "tribes" in more than 39 states, as well as links to to Europe and Latin America.
Roger Graef, film-maker and criminologist at the London School of Economics, said gangs in the UK often mirrored what goes on in the US.
He said: "In America where all of this happened in the 1990s, the [Los Angeles-based] Crips and the Bloods really had thousands of members and they franchised to other cities, partly because it was safer.
"If they could go to Denver or Washington and places like that they would have almost virgin territory for drug dealing and the stuff they would do and they would be less threatened by the rival gangs."
Scotland Yard said Thursday's raids involved more than 700 officers and targeted what are believed to be "the most senior ranking high harm members" of the London gang.
The Met was assisted by officers from the Thames Valley, Essex and Bedfordshire police forces, as well as Police Scotland.
Those arrested are suspected of crimes including conspiracy to supply Class A drugs, money laundering, fraud and immigration offences.
The Met said its work also involves preventing people from joining gangs and suspects are offered support to help them "escape" from such activity.