Dave Lee Travis: Sexual predator claims 'completely untrue'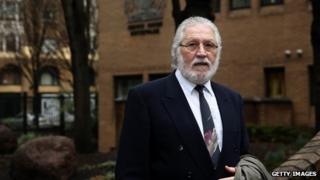 Claims that DJ Dave Lee Travis was considered a sexual predator while working at a commercial radio station are "completely untrue", his former personal assistant has said.
Gemma Nurden told Southwark Crown Court that Mr Travis, 68, gave people "a big sort of bear hug" when he met them, but "not in a seedy way".
Ms Nurden worked for the ex-Radio 1 presenter between 1992 and 2002.
Mr Travis denies 13 counts of indecent assault and one of sexual assault.
The accusations of indecent assault are alleged to have taken place between 1976 and 2003 and the sexual assault is alleged to have happened in 2008.
Ms Nurden was asked about the period when Mr Travis, of Mentmore, Buckinghamshire, worked at Chiltern Radio and is alleged to have inappropriately touched three female colleagues.
'Larger than life'
She was asked by defence barrister Stephen Vullo if Mr Travis was known by his colleagues as a "determined sexual predator", as the court had previously heard.
Ms Nurden responded that the claim was "completely untrue" and that she "never saw anything to make me think that at all".
She said there had never been an "atmosphere" at the station because of him.
She described the DJ as a "larger-than-life character" who "would chat to anybody".
He would "always put his arms around people, but not in a seedy way or anything - just in a friendly way", she added.
Ms Nurden started working for Mr Travis for a few days a week after his wife had an operation, carrying out household tasks and feeding their chickens and pigs.
She became his personal assistant a year later after he left the BBC and began working in commercial radio.
'Big old cuddle'
Also appearing on Friday was Caroline Bonfield, who was personal assistant to Chiltern Radio's managing director at the time the alleged offences took place.
She told the court she thought the allegations against Mr Travis were "totally ludicrous".
Ms Bonfield said she had never been aware that any of her female colleagues felt the DJ had acted inappropriately towards them, and said no allegations were made at the time.
When asked if Mr Travis was ever thought of as a "sex pest" by his colleagues, she replied: "No, never, ever, ever."
She said he would hug people in a " vice-like grip", but there was "no stroking or patting".
"It was just like 'grrrrr' and you got a big old cuddle and he let you go," Ms Bonfield said, adding that she had never had a problem with Mr Travis sometimes giving her shoulders "a good old squeeze".
Mr Travis is being tried under his real name, David Patrick Griffin.
The trial continues.